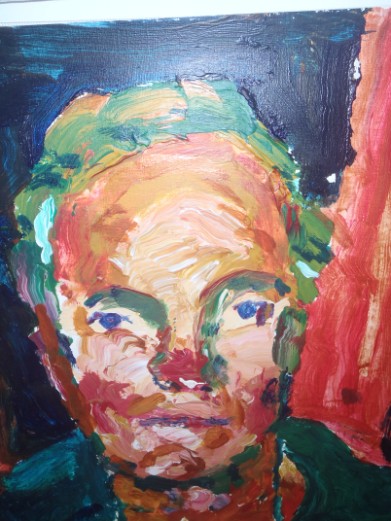 About this site
My name is Nick Lewis. I live in Oxfordshire with my wife, Tio (the Truly Irresistible One), and our son Lewis.
Travels with MySelf
is the story of my life since 1988, when I had just begun to have symptoms of MS, up to 2008.
Before that, I had been a left- wing student in the 1960s, got married to a fellow student, Claire, had two children, Simon and Zoe, joined a revolutionary cult and found a job as a further education teacher. I have now published this earlier part of my story on this site as PREQUEL - 1979Please leave your comments below
Travels with MySelf
NB Use 'Find' facility in your 'Edit' menu to return to your place in this story
1. Introduction
I was diagnosed with MS some 20 years ago. What follows is an account of my life since then. I have called it Travels with MySelf because during that time I have tried to regard the disease as part of myself -- just as if I had an enormous nose or as if I had fathered an awkward child. In other words it's an existential approach, along the lines, I hope, of the American writer Richard Ford in The Lay of the Land: "Some force in my life was bringing me hard up against what felt like my self - an end to perpetual becoming." Replying to people who asked in wonder "How do you do it in this uncharted time of life?", his protagonist Frank Bascombe said: "This is how in the shit I am! My life is this way".
Maybe I should grumble more about my condition. I do not wish to minimise the depredations, both physical and emotional, visited upon anybody who is diagnosed with MS. The progression of the disease is different in each person -- some are more severely affected than me. Generally speaking however, over this period the course of my own life has been adventurous and enjoyable.
As a counterpoint to this style of narrative, I have included a selection of my medical notes, The Short Story of a Long Journey. They should give the reader a picture of the way the medics have seen me as my condition has taken its course.
I make no apology for including my partner Tio in this memoir. The relationship is part of the story. She has done me the great honour of staying with me throughout its pleasures, trials and tribulations. The words, and the feelings, are of course mine, not hers.
2. A disconcerting feeling
Toowoomba, via the eye hospital
It was October 1988. My girlfriend Tio was away travelling for the Red Cross around their South Pacific projects. Amongst other things, an essential supply canoe needed replacing on one of the islands. She had called me from Tonga. She told me that while she was taking a walk, she had had to politely step aside when the Royal Family, world-famous for its weight, and out for its daily cycle ride, had borne down on her. She was enjoying the trip as can only someone who loves the sun and welcomes human diversity. But her father Jack was not well, and the reports got worse with each island she stopped at. She did a detour to Brisbane and went to see him in hospital.
I knew how fond she was of him. Despite the stories of his drinking, which tempered her elder sisters' attitude, and her brother's more difficult relations with him, when she told me stories of how as a girl she had accompanied him on trips out in his truck, and played around it or helped him with repairs, she was transformed with that expression of delight which she never hides.
By this time he was very ill. But there was nothing for it but to resume her itinerary round the islands. Her sister Helen kept me in touch with the family news. One day Tio called me and said that Jack had died.
Possibly because I was already feeling disoriented, but also because Tio seemed so young and fresh, I was deeply shaken by the news. I had met Jack when he had come to Europe the previous year. I could see where Tio got her sense of celebration. He was a bluff man, who couldn't understand why there were so many people on the London streets: 'Is there some kind of concert on, love?'; who loved to spin a story in the pub, or to look out to sea over a half of cold lager (even the glass had to be frozen) at a table outside the pub, and to chide his daughters meanwhile.
But I suppose I was shocked because I knew how much it must have hurt Tio. And I wasn't there. I had a flight booked a week later. Once Tio's journey was over, we had been going to take a holiday with Jack and Tio's mother Eileen and drive up the coast. We had all been looking forward to it - not least Jack and Eileen.
Tio had left me a copy of her itinerary round the islands: I had pinned it up where there was most light in the house at Craster Road - on the top-floor kitchen wall together with a map of the South Pacific, so that I could follow her progress. I knew where she was and called her. She had flown already. So I phoned the next hotel on the next island and woke her up. I said I'd come right away.
At that time I was working at the Socialist Society office at 9 Poland Street in Soho, a maze of offices containing post-60s radical organizations – and radical people, space let out for peppercorn rents, producing the magazine Interlink which I had started for them and the Conference of Socialist Economists (CSE). When I got to work that day and sat at my desk, I burst into tears. Monica, the young Cambridge graduate who was working with me there at the time, told me not to be so stupid as to try to work. She (and the others such as they were) would hold the fort. So I started calling round the airlines and getting more and more depressed as they told me the flights were booked out. But then, a thought: why not call Tio's colleagues at the Red Cross? They fixed up a flight for the next morning.
A disconcerting feeling
There was one thing I had to do before I left. I had contracted a peculiar blurring of the vision in my left eye, (as well as, if I admitted it - which I didn't, a paling of the image) together with a disconcerting intermittent buzzing feeling in the head which lasted only fractions of a second. I had decided to see the doctor about it: maybe it was a brain tumour; but of course I assumed it was 'just an eye problem'. (While I'd been in Oxford, the previous week, I'd been to see a GP friend, wanting confirmation of that. He said that it was some form of optic neuritis. But what was causing it?)
Now I was off to Brisbane. I kissed Monica goodbye, feeling grateful to this funny, stern young woman for baling me out emotionally, and caught the tube to Old Street (Victoria Line, change to Northern Line at Kings Cross). From there it was just a short walk (writing that now is sad but "a short walk" is nice to remember) to Moorfields Eye Hospital. I needed to know what was going on inside my head. I gave my name to someone behind a glass partition, and settled down in Outpatients to wait. My flight was the next morning. I just had a bit of shopping to do, so I had the whole afternoon and the Guardian. I finished the paper, and the afternoon, not without more and more frequent visits to the glass partition and hostile glances at people who appeared to be jumping the queue. Didn't they know how urgent was my case? So I gave up. It would probably sort itself out.
Even before take-off, in my comfortable seat on the 747, I felt high, and grateful to the people who'd got me there. Astonished at the size of the cabin. Overwhelmed with the beauty of the Singapore Airlines kimono-clad flight attendants; astounded that I was suddenly embarking to the other side of the world; full of tenderness for Tio and her predicament. All these things and an eighteen-hour flight in which to steep and mull them.
I listened to the in-flight comedy tape several times (How often do you sit down and listen to even Jeremy Hardy at home without pretending to do something else at the same time? Here, you couldn't do anything else.) The food and drink arrived with great regularity. It was delicious. I wondered how Tio would be, worried a bit about my head, and slept. Awake again, it seemed, according to the skewed time-scale I was trying to keep, like morning. I lifted up the blind; it was light. Miles below us, there was a silver tree set against a brown background. Bengal, and the Ganges Delta.
Waking to a new world, my emotions were still charged by the old one. Tio and her bereaved family; my own shaky predicament gave me a buzz every now and then. I was ready to cry again in empathy with the millions I knew were living there on that estuary: in sheer wonder at seeing their world in that way.
Singapore, Sydney: new worlds too; the sense of wonder and longing grew as we refuelled or changed planes. And then the flight up to Brisbane. I was convinced that I could see the shadows of sheep cast as dark lines on the hills by the sun. I'm probably wrong but there was something like that.
Descending to Brisbane, the city looked bright and clean, splodged with the purple of jacarandas. Tio was waiting at the airport. We had a cup of tea and cried. Then she drove me in the way only someone who has come home to a journey that is part of their second nature can, the routine hundred or so miles to Toowoomba.
Most of us stayed at a hotel near the racecourse, an oval something like an athletics track. On his visit to England, Jack had chuckled when Richard had taken him to Epsom. ' are you telling me that's a race track? The horses are out of sight for most of the race!' And of course they are. Particularly when it's foggy. He and Eileen had come, the previous autumn, to stay with us in Gorleston, on the Norfolk coast. After acquainting ourselves with the local pub, we walked along the prom towards the beach. When it came in sight, his face creased up, and he laughed: "Call that a beach?" Well it's not much of a beach, I suppose.
Returning to my narrative
A day or two after the funeral, Eileen insisted that we all go to the beach anyway. We drove to Caloundra. A kangaroo obligingly hopped across the road on the way. There were a kookaburra and a whopping lizard in the garden of the house the family had hired, just to add to my reorientation. It was a modern beach house, with a tin roof, as they all had. The architect had had the brilliant idea of adding to the sense of space by having a stair well in the centre of the living area and ranging the bedrooms around it on the floor above with only screen walls, head-high, so that anything you did in the bedroom was performed in public. Neither so broad-minded nor so puritan, we weren't in any mood for physical high jinks anyway.
We spent a lot of time on the nearby Dicky Beach. From the next beach you could see the beach-house of Tio's last Australian boyfriend's family, which Tio had described to me in nostalgic, sun-drenched, tones back in London. I imagined an intriguing, very sophisticated time at a verandered house by the ocean. It was probably different, but I am intrigued that Tio fell for me, an awkward Englishman. I know why I've always loved her. Her openness. That's physical as well as intellectual. Her body and face show it, so that I am attracted to both them and her. I'm amazed she can go to work without her colleagues seizing hold of her. She emanates beauty and innocence even when she gets home after a trying day at the office.
We played in the surf, and I painted one or two watercolours. My sketches are something of my own: I needed that with all the family engaging in their rituals (surprisingly few, but still). The sketches are serious therapy. You get something in front of you, and forget everything else in your life for hours at a time while you try to represent it. I think it was when I got home after this trip that I started art classes. Over the 20 years since then I have always returned to drawing and painting, and found both stimulation and solace, just as others do in yoga or in the imaginary world of religion. My ever-decreasing manual dexterity each time presents itself as an obstacle, and provides a new challenge to the representation of what I see or think.
Given I was on an Australian beach, I thought I should join the surfers, and hired two boards - a body board, and even more ambitious, one you could stand on. Arriving at the beach there was little surf, and few surfers. Nevertheless, it was fun trying. And it was something else of my own. I was still feeling fragile and disoriented - less, but the disquiet remained. Everyone drove around, but I was scared to, given the sudden attacks of blurred vision. I think the others felt I was a schmuck, complaining about the strange buzzing in my head and the defective vision. After all, they'd just lost a father and a husband.
One night, we ran out of beer. Wanting to play my part, I said I would go and fetch some. The natural thing in that part of the world, as in the US, would have been to drive up to the beer shop on the highway, but owing to the problem with my sight, I wasn't driving. I said I'd walk over. I found it: a drive-in. Weaving around the traffic, I waited my turn behind a Ford Ute, and asked the attendant for some Fosters. I remembered Tio's family's predilection for freezing beer: "Is it cold?", I asked. The assistant, a strapping six-foot-fiver in shorts, looked at me as if I was one tin short of the six-pack. "Is it cold", he repeated. He just beckoned, and opened the door of the store. A vast landscape of Fosters, and XXXX. It was minus thirty at least inside. "I'll just take one pack", I said, and ran away.
After a few days the beer drinkers went home. Eileen said "We must go to Noosa," in a way which brooked no argument. She was right. The coast road north was one of those American-type ribbon developments with lary hoardings advertising nearby shops (a giant pineapple urged the thirsty to buy the local brand of juice) or restaurants, and drive-ins on both sides, and I wondered where I was being dragged. Noosa, though, was different. We parked the car in the forest. Possums and lizards made an instant appearance to give the visitors the once over. Then we walked through the rain forest. We could see the blue of the ocean through the sublime vibrant greens – a different green from home - of the foliage. We sat on the soft ground and had our lunch, and then ambled through a very old (the grass-boy trees looked as if they had always been there), very friendly version of jungle . I even tried swinging on a vine.
The bush cleared as we walked, and we were abruptly on the beach. It was how beaches are meant to be. White sand, blue sea. There was hardly anyone else there. With Eileen spectating approvingly, we stripped off and ran into the surf.
We spent some time with Eileen back in Towoomba before we went home. It felt quite calm and peaceful, in the main, I think because of Eileen's calmness. This was what had happened. The point was to try to understand where she was now. Tio didn't cry; she seems to have her mother's quality of serenity: but this was suppression. Years afterwards, she would break down into tears at episodes which reminded her. We went to see Truly Madly Deeply, a film about a love so strong that the dead husband (Alan Rickman) came back to join his wife, until she had formed a new, supportive relationship. It was nicely and idiosyncratically filmed, with a motley crew of Rickman's ghostly friends invading the matrimonial home to keep him company. I enjoyed it a lot.
But Tio, once we were in the car on Fulham Road, broke into a violent storm of tears. She rarely lets anyone see that fragility. But there I felt I could see a girl who had lost her father, and there she still is sometimes, a girl who delighted in helping her Dad service his truck in the driveway at the side of the house at Taylor Street, or bowling along the dusty roads of Queensland with him, or performing tasks for him like scratching his back.
I couldn't help feeling the parallel between the film and our situation. I wasn't able to express it then, but I found it difficult to comfort her: part of me had already left the land of the living. She probably felt that too.
No matter that her father drank too much (She reprimanded me once for rooting through her cupboards in a rage, possibly fuelled by my immobility, at not finding something: her Dad used to get back drunk from the pub and do the same thing. I felt very guilty.) That must have been part of the father she loved. Where does this forbearance come from? Her mother Eileen continually wondered at the workings of the universe, an inquisitiveness born of her lack of the education she made sure that her children treasured. But most of all, she felt it was her duty to work to provide a home for her family. A favourite, often repeated story was Henry Lawson's The Drover's Wife. Her husband is away, droving. When her little boy spots a deadly snake slithering under the floorboards of the house, she rounds up the children, lights a fire for them to sleep away from the dangerous, raised part of the house and sits up all night with a stick and her mongrel dog Alligator, waiting for the snake to emerge. Meanwhile, she remembers her solitary struggle thus far.
Eileen was the daughter of an ex-journeyman baker whose wife gave birth to her in Middleton, Lancashire, and then emigrated in an adventure to look for a better life. That Antipodean search seems to have survived in all the children (adults now). In different ways, it seems to be there in them all.
And the strong existential streak in Eileen and Tio, which probably surfaces in some way in the others too, is what cemented my love for Tio. It's something I balance in myself with an incorrigible optimism (it wears Tio out) by making the best, like Camus' Outsider in his jail delighting in the changing patch of sky he could see through the bars of a window high in the cell wall, of any new situation in which I find myself, or like the stroke-hit Jean-Claude Bauby, in The Butterfly and the Bell Jar, recounting with blinks of the eye to his readers what fires his imagination in his personal prison.
3. Diagnosis
When I got home, I went back to Moorfields. They gave me a variety of tests. My instinct is always to endow the consultant with my complete confidence. This one I felt I could trust. She asked me lots of questions, filled in forms, and did some familiar coordination tests that had been done when I had complained of minor symptoms, but also one which involved the screen timing my reactions to the appearance of images on it. She said I had optic neuritis and that amongst other things it could be MS. I felt relieved to have some kind of diagnosis, but overwhelmed too. We made an appointment to look at the results of the tests, and I supposed, for a definitive diagnosis.
I delivered myself back to Moorfields, feeling that they'd finally tell me what was wrong and sort me out. I was ushered in to see a different doctor. While he started out on the same series of tests that I had had before, I became increasingly disconcerted. Eventually, when he asked me to look through exactly the same piece of apparatus as previously, I told him that I'd done all this. Shamefacedly he admitted that they had lost my notes. When I got home I cried: one of those roars of pain and rage in which you notice your shoulders shaking uncontrollably.
The next time I turned up at Moorfields I was met by a troika of dignitaries including its chief administrator. I had assuaged my tears with a furious letter of complaint. How could they treat anyone like this? It was hard enough, but possible, to live with the unlikely diagnosis. "Surely.", I had thought, "it couldn't happen - it's bound to turn out to be something else. And if it is MS, then we'll have to deal with that once we know." But their incompetence amounted to torture. It was like telling the infantryman, subjected by foolhardy generals to battle, and returning home from the Somme, that he'd been dreaming. He hadn't fought the battle yet: he'd got to go and do it all over again.
So I went through the same series of tests and back again two weeks later to get the result. I think I knew what it would be, but in those days, I didn't have the Internet, and so could hope it was something else. Tio hadn't usually come with me on my medical appointments. But she did this time. I imagine that she sensed my trepidation, and that she too feared it would be bad news.
With no ceremony, the consultant told me, "You have Multiple Sclerosis". No counselling was offered, although I think he mentioned the MS Society. I remember Moorfields as being set in a fairly ugly part of London. But that might be because of the associations. Anyway, we found somewhere for a coffee and sat down to try to absorb the shock. We felt comforted, but a little dubious, by the 'benign form' diagnosis - many are told this, presumably to lessen the blow, without being told the likely future course.
But there was no escaping it: I had been diagnosed as having MS. Who could I turn to for help in coming to terms with it? The MS Society was an obvious first port of call. And then I looked, for the first time as someone with MS, at their advert on the Underground platform. If you're anything approaching my age, you've probably seen them somewhere. I'd seen them before. Strong, effective stuff. Images of people with parts of their body being ripped off.
Now, I was horrified. This wasn't help: this was terror. And the terrorists were the MS Society. "My own" society, ripping me to shreds. Turning me into litter, to be picked up please, by the conscientious, and tidied out of the way. Meanwhile, I was needing the opposite: to feel good about myself. If it was up to the MS Society, I'd still be feeling very bad. Their next campaign featured despairing, helpless men with cradling arms holding them up, still featuring the ripped paper motif, it was called "A hope in hell". Who was putting us there?
The MS Society is no longer as top-heavy with charitable grandees and has branches and website in which people with MS play a larger part. But at the time, I didn't have much to do with it and joined a rival outfit, which seemed to be run by people living with MS themselves. By historical accident, they seemed to be taken up with a treatment that has never been shown to have a lasting effect on MS, but which may make people feel better at the time. This was hyperbaric oxygen treatment: each branch had a pressurised oxygen chamber into which members could file and walk out afterwards, on a high, with the oxygen supply to their blood boosted. Apart from this the members busied themselves making tea or organising branch activities in the same way as any group activists do. Given the momentous diagnosis, I did sign on with the branch for a course of counselling. I travelled to Walthamstow in North East London and told the counsellor about myself. She said that it sounded as if I was going through a midlife crisis. She was right. A few years before, I had left my wife, my two children, a Trotskyist cult to which I was addicted, and my job, in the search for a new life. I had found a new girlfriend, but just to embellish my situation had been diagnosed with MS.
4. Telling my friends and family
Not yet being obviously disabled by the MS I imagined that I wouldn't have to tell all my friends and family. I thought, to begin with anyway, that I would not tell my elderly mother. I realise now that this was silly. I needed her support. Just as my children need my support: although I am disabled. I'm still the same person. She was still my mother, despite nearing 90 years old.
Tio was and always has been kind and encouraging, although every now and again she has to remind me of the limitations of my condition and of the way it affects her. My son and daughter Simon and Zoe,19 and 18 years old, did not panic, although I could imagine their mother Claire, my former wife, being fairly upset.
Zoë came to see me. She had just finished her A-level biology, and so was able to tell me in graphic detail the function of myelin.
"You know your nerves", she said
"I'm fairly well acquainted with them, yes. They send messages round your body, don't they? Round your mind too, I should imagine."
"Let's leave minds out it for now shall we", she said, "god knows what you've got on yours at the moment"
(She had an idea, not entirely wrong, that these days my head was like a cartoon strip filled with women who I was chasing.)
She continued her lesson: "Nerves are covered with fatty stuff called myelin. That's what gets damaged by MS, I think."
"Thanks Zoë", I said, "You did a lot better than the consultant". (She was right. Nerves are covered with a protective layer of myelin, called the myelin sheath, which gets damaged in MS., causing slow or no delivery of messages to and from the central nervous system to various parts of the body).
Simon was just as he always is: his loving self. Fairly soon after the diagnosis, I took the train up to Manchester to see him and my grand-daughter (she and her brother me Poppy: I chose the name after reading about the beautifully described friendship devised by John Le Carré between his Perfect Spy and his opposite number, codename Poppy.). When we arrived at Piccadilly for the return trip, I found I had forgotten my shoulder-bag. By this time, I was having what elderly people euphemistically call 'trouble with the waterworks'.
Simon had worked this out, and asked "Won't you need it? I'll go back for it if you want." I replied, optimistically forgetting my condition, and again like an elderly 'mustn't grumble' kind of person, "No, it's OK". Well, it was not OK. Tio as usual was her generous self and rescued a sopping wet, bedraggled Poppy from Euston station, and revived me when I got home.
I had to tell my sisters Kate and Viv. We had dropped Viv back home in Bristol after a family occasion, and we were in her garden. Their looks of shock and distress took me by surprise. I suppose I should have got them to sit down first. I was flattered that they felt the bond between us so strongly.
The other member of my family I had to tell was my Aunt Betty, "Aunt" to the family. She was my mother's younger sister and she was very dear to me and my sisters. When we were children, she used to come for the weekend laden with preposterous gifts and when we were little she sang to us in our bath. I remember her trilling the frightening song "Poor baby has gone down the plug hole ".
Now, she was the only other member of the family living in London, and I used to visit her in her St George's Square flat. She had had a minor stroke and had become a sweet little old lady. Tio loved her too, and together we saw more of her. She had been a catering manageress, and she enjoyed entertaining us in her Pimlico flat. I asked her round to my house in Brixton. While I waited for her, I watched from my first floor bay window. She scuttled up the street in fits and starts checking the houses for their numbers and, I think, for whether she recognised them. At last she turned into my porch, and rang the bell.
She was a little bit fazed by my news, but enjoyed her cup of tea and cake. The next time I saw her, she told me that one of her Australian friends visited London especially to see a homoeopath, who was very well recommended. I did not have much time for homeopathy – after all, can drinking something diluted to a negligible concentration really do you any good? – I preferred stronger stuff. But to humour her, and because I fancied the idea of a trip with Aunt, I agreed to visit Mr Jenkins in Hastings.
We arrived at the Jenkins practice, run from his semi-detached house. An ageing, scruffy hippie dressed in a crumpled shirt and shorts answered the door. Mr Jenkins did not inspire confidence, and nor did his consulting room. This Merlin-like figure had surrounded himself with mounds of tiny bottles of water interspersed with dried- up foliage. We found chairs amongst the detritus and went through the motions of a consultation.
I'm afraid Mr Jenkins believed every word of the fictional story that I wove for him. After all what difference was it going to make if my father had been a circus performer not a businessman, or if in my youth I had suffered from a plague of boils, not an inflamed gut? From his 'surgery' bay window I watched an interesting array of mothers bringing their children home from school to identical semis in the street.
Asking himself which of his potions might be best for the nervous system, Jenkins rooted through his pile of bottles. I turned my thoughts again to the display of suburban houses across the road. I was imagining a procession of elderly ladies beating a path to his door from houses like these or from as far away as Sydney, New South Wales, only to be palmed off with a bottle, green or brown depending on the complaint, of the flat water to be taken "one or two drops under the tongue per day" for the placebo effect. I'm sure it was strong. I kept Mr Jenkins' bottle in my kitchen for a couple of weeks and tried a few drops per day. They did me no harm.
Treating people right
As will become clear, I had become familiar, almost fond, of the London (now the Royal London) Hospital, and so after diagnosis, I decided to see a neurologist there. In fact the appointment system was that one was allotted to a member of the team. I generally saw a nervous, pale young man with red hair who made me feel I was at death's door. He lost no time in his examination before trying to convince me that I had had trouble swallowing: "Any problem with choking?" he would say. In the more acute, or advanced phases of MS, when the muscles in the oesophagus can be affected, it is true, I think, that swallowing food can become more difficult. It seemed this young doctor was just trying to do what he thought doctors should do, and effect a cure. I had an idea that he wanted to pump me full of steroids – a fashionable treatment at the time – and one which, given the experience of my friends, could be dangerous. I said I'd had no problems swallowing, and even if I had, I did not want steroids, thank you.
I only had one more brush with the Royal London. I started to get stomach pains. I thought it could be a reappearance of an old inflammatory gut condition. They checked me in for a barium meal investigation. You swallow successive beakers of a barium preparation. Using x-rays they watch it go through your gut. After each picture, they told me to return to a tiny cubicle and take up a new position, presumably to tip the sludge round the next bend in my intestines. I don't know whether anyone told the doctor in charge of the investigation, or for that matter the radiologists, that I had MS, but they made no provision to make me comfortable while I tried to turn somersaults in my little compartment. Increasingly, I felt that I was undergoing some form of gymnastic torture. Tired and frustrated, but knowing a little more about the limits of my sclerotic self, I walked out. Months later, after indulging in one of my favourite fast foods - a Macdonald's thick milk shake - I doubled up on a south London pavement, and soon discovered that I had gallstones.
Telling my friends
Mike, one of my South London Trotskyist friends, invited me round for dinner at his Clapham residence. A few of our other political pals were round there too. Mike and his wife Sheila liked to do things properly. The food and wine were sumptuous, Sheila gave us a few bars on their new grand piano, and we then retreated to a clematis-strewn garden terrace for coffee and more wine. I know not whether it was the MS or the wine (I suspect the latter) that made my fingers turn to butter, but I tipped my glass all over the terrace. It was a perfect opportunity anyway to tell them about the MS.
Funnily enough, the news did not change the dinner party. There was no equivalent of a freeze frame, or transformation into a surreal mad-hatters' gathering. But we had gone through another rite of passage. We were no longer starting life as student revolutionaries or young parents. Disability makes us aware that we're not all perfectly formed children with the world at our feet to mould as we would like. Instead, we had become flawed adult citizens of an imperfect world. Mike and Sheila had already been woken from their youthful dreams by the birth of a disabled daughter. Now, fallibility was being cemented into our group consciousness.
6. An outsider in London
In the early stages of my MS, I would sometimes be excited by, almost welcome, a symptom - a buzzing in the hand, a numbness in the leg - that I woke up with. I recognized it. It was mine, like an old personal acquaintance revived. I wondered where it would take me.
My anarchic adventures a long time before that, when I was first in London, came back to me. Officially, I was revising for my A-levels at a tutorial college (colloquially known as a ' it crammer'. I used to roam the streets, calling in at coffee bars or wherever, with my friend Dick. Picking up on a chance remark or accent, we would act it out. A driver accompanied by a handlebar moustache: "Good God, Raymond! Did you see that cove! Gave it maximum revs and jumped the lights! Handbrake turn down there to the right". "That's the local doc., Raymond. Look down there on the pavement! There's a woman giving birth!" "Must have been alerted by the Flying Doctor, Raymond." Like that. Most of the time we were both Raymond. Raymond was an old friend.
My anarchic adventures a long time before that, when I was first in London, came back to me. Officially, I was revising for my A-levels at a tutorial college (colloquially known as a ' it crammer'. I used to roam the streets, calling in at coffee bars or wherever, with my friend Dick. Picking up on a chance remark or accent, we would act it out. A driver accompanied by a handlebar moustache: "Good God, Raymond! Did you see that cove! Gave it maximum revs and jumped the lights! Handbrake turn down there to the right". "That's the local doc., Raymond. Look down there on the pavement! There's a woman giving birth!" "Must have been alerted by the Flying Doctor, Raymond." Like that. Most of the time we were both Raymond. Raymond was an old friend.
Tio has a different side of the same coin. Instead of my instinctive snobbishness, an English defensive scorn for new things and new people, she welcomes them into her life, and learns from them. Sometimes it looks like naivety, but really it's saying 'Hi. What have you brought to the party?' Temper that, though, with a suspicion of people who are more inhibited. What tortures the buttoned-and-muffled-up English put her through!
Soon after we returned from Australia, we watched a film of Hardy's Jude the Obscure. Like the book, it's almost unbearably tragic, but it contains some sublimely charming passages which caught what is so attractive about Tio; the physical enjoyment of even the little things of life: the natural way in which the peasant girl Arabella shows her attraction to Jude (the way she seduced him in the pig sty reminded me of the way, when we'd first pitched a tent on a weekend away in Wales, I felt as if I was being invited to leave my inhibitions outside); the way the girl, on her wedding day, enjoyed chasing a pig around the field with the bridesmaids. Or the mischievousness, the irreverence to convention, of both women.
But one of the most beautiful parts, where the lovers ran along the beach lassoing each other with strands of seaweed: a part that could have been standard slow-motion Hollywood mush but which was transformed in the film because the unusualness of the characters made them so real, made me feel very unhappy for a time. I just can't do things like that any more. I told Tio. She healed the wound with something warm, and said 'I don't remember us ever doing that anyway'.
Actually, I do remember something like that. A little bay on our first visit to Ibiza in 1986, where we put down our bikes, and messed around on the rocks. We peered into the clear water and saw a strange fish with a wide, frilly skirt. There is a photo of Tio, wearing an orange smock, perched on one of the rocks.
We rattled our bikes around the baking tracks, Tio going oh so slowly, savouring the air and the views of the sea or poppy strewn fields, bringing up the rear. I felt, I think we both felt, very happy. That makes me feel better. I've been there, and done that, several times actually. I don't know if either of us has still got the Tee shirt.
7 Gaining confidence
In the months after diagnosis the strange 'optic neuritis' symptoms had abated. I was still scared of driving though. My self- confidence had taken a knock. Tio gave me a big boost by telling me to get back behind the wheel. Many, perhaps thousands, of people with MS and more thousands of disabled people generally, have probably been prevented from living a full, independent life, using what mobility aids they find necessary, by well-meaning but over-protective partners or 'carers' who themselves slip back from confronting challenges and settle for a role as a carer.
I have noticed that many conferences of disabled people style themselves as conferences for 'disabled people and their carers', as if every disabled person had a carer attached to them, like a ball and chain. I'm being unfair. Loads of husbands, wives, mothers, sons, daughters and social workers do a vast amount of work caring for relatives, friends or clients, and many do it as anyone would as part of a loving relationship, or as a job. The point though is that I and every disabled person have independent lives, interests and sources of joy quite distinct from those who might care for us. So, if they allow themselves the luxury, do the care-people.
Back from Queensland, newly diagnosed and back to work in Poland Street, I had to cope with Socialist Society colleagues going troppo over the plain fact that Interlink -- the magazine I edited for the Socialist Society and the Conference of Socialist Economists -- was broke. It always had been, but try telling that to a colleague such as Richard, who has just spent months staving off the bankruptcy of a whole left-oriented publishing company. I published Interlink existentially: it paid its way on the advertising that could be garnered per issue, with brief injections of funds through incorporating it as a co-op, selling shares in it and getting a £2,000 loan from the Cooperative Development Agency. A woman from the Bolton labour movement also gave us a few thousand pounds which she had to distribute as the trustee of a defunct socialist fund. For a time, before going away, I had even paid myself £100 per week: I'd realized an ambition, held since I first read Lenin's What is to be Done in 1967, to be a professional revolutionary (by then, naturally, of the more reformist Menshevik variety)! But nevertheless, Interlink could never come out until I had sold enough advertising space to pay the printer. I suppose it had to take my absence to make people realize this astounding fact of life.
After this, and the arrival of a group of Manchester students, fresh from publishing their own mag, whom I invited to work on Interlink, hoping they would take it over, I never really got my feet back under the editor's desk. We moved Interlink to some offices in North London. I hadn't told many people yet about the diagnosis of MS, and I remember feeling embarrassed about not having the energy to cart furniture about. My publishing colleague Richard Kuper had just been diagnosed with cancer. I didn't want anyone to feel that there was a competition for sympathy. Richard is the gentle, generous man, who in the early days at Poland Street, had taught me the rudiments of wordprocessing. I have joined him in not letting the repercussions of my condition dominate my life. Yet.
It was after all 1989, and I put my energies that year into organising two timely political expeditions for our readers: to Paris for the bicentenary of the French Revolution; and to Russia, to monitor the political revolutions in Eastern Europe. For the Paris trip, I had a commission to write a report for the then London magazine, City Limits, and remember being impressed by the smell and steam generated by the Republican horses clattering through the ancient streets. I had previously shunned the trip to the Soviet Union on the grounds of opposition to the Stalinist bureaucracy, but political change was so swift at that time, that it was hard to resist now. Of course, we arrived at the time of glasnost and perestroika, the lying in state of the eminent nuclear scientist, oppositionist Andrei Sakharov, in itself an unprecedented event; we arranged to meet other oppositionists, and were shadowed, as was common at that time, by our tour guides. The Winter Palace was astounding, and the battleship Potemkin affecting. Notable from the point of view of this memoir, is the energy expended, in the style of Dr Zhivago, climbing up to the top bunk and making love to Tio on the night train between Moscow and Leningrad, while the steward stoked up the samovar; or swimming in an open air pool in Moscow at -30°C. I thought it was strange how everyone had their heads protruding vertically from the water until I tried ducking down and ended up with frosted stalagmites on my head.
Back in London
I am forever surprised and flattered by Tio's apparent affection for me. This is how I had met her.
I'd printed off some leaflets trying to interest CSE members in merging their and the Socialist Society's newsletters, and took them round to their offices which were in a kind of warehouse building in Islington. A young woman opened the door to take them. Her face, framed in a mass of chestnut curls, radiated sun and warmth; her body language conveyed an openness rare in my personal London diary at the time. I instantly liked her. So far in the capital, with its vast numbers of stylishly dressed attractive women of all ages inaccessibly on display, I had not met anyone half as lovable.
A couple of weeks later I turned up to a meeting at the CSE office, and she was there! At the time of course, I was over attentive to my magazine – and shy into the bargain; I pretended that her presence did not distract me, and she was friendly enough. I think I was wearing my uniform of the time, which was an old mack of my father's, to which I had added red buttons, and a badge which proclaimed 'I'm red and green, it's only natural'. Tio, surrounded as she was by fairly conventional academics, must have been attracted to a person who was going to wear that kind of thing – or perhaps I somehow betrayed some of the testosterone pumping round my body when I looked at her.
After that meeting, she was always surfacing in my mind. Terrified of making a fool of myself, with the excuse of an invitation to a Sandinista Evening at Lambeth Town Hall, I went back to her office. She wasn't there, but her friend Kate was. I knew Kate, an intelligent, sinuous, pretty young woman who had worked in another office at 9 Poland Street, and so, stupidly trying to be casual, I asked her to come along too. But she gathered I think from the awkwardness of my invitation, that my interest was in Tio and she got the message to her. Tio called me. She couldn't come to the Lambeth rally, but we arranged to meet after work at a pub near Poland Street. As I put the phone down, I whooped for joy and my feet left the ground .
We met and told each other about ourselves – she was quite different from anyone else I had ever been out with. She was from a large Queensland family, had joined two of her sisters in London, and was a lot more confident than me in talking about herself. But there were no barriers. I was instantly in love. What next? I'm not a big drinker, so I asked her.
We ended up eschewing the West End, and going to my place south of the river.I could not believe my luck.
During the Underground trip to Brixton I racked my brain to think whether things were in place in my house.
We climbed up the stairs to the kitchen (at Craster Road it was at the top of the house. Girlfriends might well have been impressed with a single owner of a big London house – little did they know of the shaky financial foundations). But this was the 1980s. While the kettle was boiling I made a rapid scan of the rooms – one flight of stairs down from the kitchen. While my neighbour George, with the aid of fittings from I know not where, - and dared not ask – converted the ground floor to a flat, I had not made many changes to the upper floors.
The bedroom still had wallpaper with vertical lines of little pink roses. I had though added some refinements. On a visit to Brighton with some friends (ex-Trotskyist of course: who better to relax with away from the struggle?), I had found yards of a sturdy Indian material which I had made into bedspreads and lounging cushions, and curtains. I hurriedly tidied the place up, and returned upstairs.
Craster Road
I had bought the house in Craster Road after listening to a maddening (and mad) Muswell Hill Iranian who used to run a Capital Reading Group attended by some ex-Workers Revolutionary Party (WRP) members. I think he was personally an Engelsian rather than a Marxist – he seemed rather well off. He told me, when he gathered I was in the market for accommodation, "You should buy a big house and let some of the space. The rent will pay the mortgage."
Walking along Streatham High Street some days later, I noticed a sign for a Mortgage Broker, and found a small man with an East London accent behind a huge desk. I said I wanted to buy a house and of course I needed a mortgage. "I'll need a letter from your employer specifying your salary". "But I don't have an employer or a salary", I said. "I didn't hear that." The broker stared at me meaningfully, and repeated his request. I thought hard; a friend in the printing business had recently persuaded me to start up a small company to print and market postcards: images from Private Eye covers and that sort of thing. Perhaps I could get him to write the letter. "I think I could do that", I replied, and the deal was done.
Craster Road is a little street of about 30 houses which had been built in Brixton Hill in late Victorian times. George, one of the first-generation Caribbean neighbours who lived on my side of the street, told me it was built for army officers based at a local barracks, "I found a heap of uniforms in my cellar". Perhaps the barracks were at some point converted to the nearby Brixton prison. I assumed the officers were of lowly rank, because although the houses were typical large Victorian London houses, with twin-pillared porches and space for maybe two servants - with appropriately low ceilings in a back extension, they were damp and very badly built – plaster crumbled from the mock balconies above the porch, and they had extremely small gardens.
Living at Craster Road, I supported myself in the spirit adopted by the non-conformist middle class in Thatcher's Britain (that is, by those who weren't squatting in it) - by remortgaging the house. I also earned a few crusts editing copy for various publishers. It was a profession that fitted in well with my left-dilettante lifestyle. Along the way I learned about the history of English forests, and that Shakespeare was actually, definitely!, the Earl of Oxford.
Exercise
I had continued to play the occasional game of tennis in the late eighties and early nineties, well after I had been diagnosed with MS. I still just about managed to beat my son Simon on the Brockwell Park courts, although I noticed a problem with hand-eye co-ordination (this after all was probably the basis of a lot of the tests doctors put me through when I first developed symptoms). Maybe Simon let me win. There's something preventing one from beating one's father. It's a bit like stepping over a frontier into unknown territory. I had noticed the same playing my Dad as a teenager on the tennis court at my home in the Cotswolds.
I played a couple of times in south London with my friend Mike, and played a doubles with him and Finbar. Of course I was worse than them. But they'd been practising. The last time I ever played tennis I won! Finbar and Mike had invited Finbar's son Paul and me to a doubles match at the courts on Tooting Bec Common. Happily I was paired with Paul and let him do most of the work, just putting in a stroke when I had to, or when I had a sitter of a shot. So we won.
But spending most of the time sitting at my Craster Road desk, I felt I should take some exercise. Unlike the modern, bloated industrial fashion for gymnasium machinery, the enthusiasm at the time was for running. My morning run took me fifteen minutes before breakfast – a few minutes more if I bought the paper on the way back. It took me down the street, to a path through the Tulse Hill council flats, and into Brockwell Park. The rolling grassland park, complete with a modest stately home, Brockwell Hall, was created by a wealthy glass merchant in the early nineteenth century, and bought for the public on the initiative of a local MP. I ran past a series of ponds to check out the coots and Canada geese. Railings kept them safe from the public, and they built nests and reproduced at quite close quarters with walkers, children and dogs. I grew to recognise two lady dog-walkers who would stop for a gossip by the ponds.
Over a number of years of morning runs following my diagnosis, I did not notice much difference in my fitness apart from tiring earlier, and at the slightly greater reluctance of my legs to put themselves where I wanted them. Both things that could be put down to getting older, or less fit, as well as to the MS. Sometimes, I would break into a walk, maybe to pass the time of day with the ladies. Then one morning, returning past the flats, I tripped and fell.
Propping myself up against some railings, I sat on the pavement and took stock. Indignantly, I examined the paving. I had read stories about people suing councils, accusing them of responsibility for sidewalk mishaps. A few steps back I could see where I must have caught my toe. One of the slabs was slightly raised. But only slightly. Even in my state of shock, I reasoned that the case would not stand up. "A middle-aged man with MS, your Honour, is bound to drag his feet !"
I had grazed knees, and my left hand hurt. I examined it. One finger protruded from the others at an odd angle. Heaving myself upright, I walked up the road to the paper shop, got the paper, and showed my finger to the Indian woman, Sachi, who owned it. There were soon several of her family gathered round, proffering advice. Sachi's husband came in. He was shaping up to shove the finger back in place. I declined the offer, thanked them, and ran away – probably walked, actually.
Once I was home, I called Tio. I must have sounded shaky.
"Is anything the matter?"
"I was out for a run and I think I've broken my finger"
"How did you do that?" she asked incredulously. But then she stopped asking questions because I had dissolved into tears. It was like telling my mother I had fallen off my bike and grazed my knee. The shock had got to me. It's still a shock when I fall over, but this was the first time. Tio no longer asks me how. She knows.
A minicab took me round to King's College Hospital A&E. I was admitted straight away. I was shocked again. The ward was full of old men puffing away at cigarettes. Apparently, the idea was that it kept them calm. But what about the other patients? What about me? What about the nurses? Tio turned up with provisions. She was shocked by the smokers too. Happily, she had brought a radio, and so I could avoid both the inanities of 'hospital radio' and what seemed the interminable wait for an operating theatre slot (no 'modernisation' in those Thatcherite days). They came for me at 10pm. At 10 the next morning Tio was escorting me to the main exit. A man stumbled down the stairs into the lobby. I recognised my young surgeon. He had been working all night.
Swimming
The broken finger put paid to the running. I now went swimming as often as I could – once a week tops. Brixton had a spanking new pool courtesy of Lambeth Borough Council. In those days, I did a creditable breast stroke. I thought so anyway: I rarely held anyone up in the slow lane. Tio, however did five lengths freestyle to my three. She is Australian after all.
I had not been swimming in a public pool for a long time. I loved the closeness to other people's bodies, Wondrous too to be in the presence of so many shapes and sizes.
The changing rooms were a far cry from my rather bashful schooldays. As far as I can remember, no one then had cosmetics. The Brixton boys and young men slapped and rubbed themselves with creams and lotions with great concentration and evident approval from their peers. I think their mothers must have told them not to walk on the changing room floors, because they always used flip-flops, and then leapt onto the seats to perform this bonding ceremony.
Streatham, which is where I swam next, had a superb pool – or at least you could see it had once been superb, with a spectators' balcony and a stage at one end: imagine swimming to an orchestral performance of Die Moldau! Well, I could imagine. The baths management had let the building decline. Paint peeled from it's Art Deco features and dirt hugged corners. And even when Lambeth did allot some cash to refurbishing changing rooms, we disabled people were left out. I had to change in a meeting room. Plenty of space actually, and a window let in fresh air and snatches of conversation from passers-by. This room was soon privatised into a fitness club, however and I was shuffled into the 'first aid' room to change. This grubby room doubled as a store for cleaning paraphernalia – equipment that was used sparingly if ever to provide a suitable environment for casualties.
The staff were helpful though: as sometimes is the case, alarmingly helpful. At that time I was using two sticks to get around. I felt self-conscious in my swimming trunks on the short haul from the First Aid room through the lobby, past a queue of punters just in from the street. From the entrance hall you could reach the pool through swing doors, which I was taking my time to open when strong lifeguard arms appeared round either side of me, and gave the doors a push, and whoosh I fell forward. Luckily the lifeguard picked me up, but I was cross:
"What did you think you were doing?"
"I was just trying to help!", he said.
"Really? If you see someone drowning, do you help them drown?"
Some people, when they see a disabled person, just panic. It puts them under an obligation: they do the first thing that comes into their heads, without thought.
A disabled peoples' session
A couple of hours on Thursday evenings were scheduled for a session for disabled people, including, naturally, people with learning difficulties. I went along. Room was found for us to change together. My instincts were to recoil from the palaver: piles of unlovely clothes, smelly bodies, unlovely people, and trainers all over the place. But then I had my own difficulties finding a suitable corner to balance my sticks and getting myself undressed, and something came to me that I was by then learning in the disabled peoples' civil rights movement. If I was going to love myself, I might as well love these people.
I heard about favourite girlfriends:
"Go on, you want to take her out; go on, you love her. Go on, ask her!"
The object of this cajolery looked down very shyly.
"Go on, go on, go on", he was urged.
And I heard about the cafes, escapades and activities of the day-centre club members. There was a hoist to plunge us into the water – no shilly-shallying at the waters' edge.
After our child Lewis was born, we favoured the Latchmere pool in Battersea, crowded on a Sunday morning with middle-class dads and mums giving their partners a break, or a chance to cook Sunday lunch. It was one of those "beach" pools which I could wade into, holding on to the edge until it was deep enough to swim, and there was a rail I could use to help myself stand up when I got out. A hooter sounded every half hour before a massive mixer churned the water up into waves. Tio, nostalgic for the surf, sat with the baby in the shallows and let the water wash over them. Supported by the deeper water, I enjoyed using what purchase I had left in my toes and ankles to leap with the waves.
It occurs to me that swimming is a way that disabled people who can't move very well can have a physical relationship: there should be private pools where we can savour the support and ease of movement provided by buoyancy in the water. At least there, we are unencumbered by spasmodic limbs, walking aids or wheelchairs. Earlier in cour relationship, Tio and I used to swim naked in a friend's pool. We found that decidedly alluring.
8 Commuting
Tio invited me to a return visit to her 'short-life' flat in a housing co-op in North London, and thus began an affair spent in Brixton Hill and Crouch Hill on alternate weekends, for eight years. We formed an apartnership, commuting at weekends between South and North London. It worked well. One weekend I would take the underground, Brixton to Finsbury Park, change at Stockwell, and the next she would drive down to Brixton Hill to slum it with me. Tio lived in a Housing Co-op made up of large Victorian houses on one side of a long street between Finsbury Park and Crouch End. When I first stayed the night, I marvelled at the disrepair of her house, with cracked and stained ceilings and paper- (literally) thin walls between the rooms of the flat which she shared with one of her many sisters, and another attractive young woman.
They kept up standards: for central heating, gas fires were left on permanently (I don't suppose there was much danger of carbon monoxide poisoning in such a draughty place), and they made tea using teapots and tea cosies. It was what they called a 'short-life' house: accommodation for co-op members while another was refurbished for them. After a couple of years, they moved into smart new quarters a few houses away. We only tired of the weekly commute once Saturday repairs to Craster Road and incompatibilities in the co-op caught up with us. Then, to my delight, Tio suggested she move in with me.
Along the way, I made firm friends with the women who shared the house with her, and their partners. Why do most of my friends live up several flights of stairs, in large Victorian houses? Initially, it was not a problem, but eventually it became one. Once I was using sticks, I could, with some support, get up the steps to the entrance, and then get up the stairs by the time the tea was made, and everyone sitting comfortably. The women were all, culturally, of the left. We could take the 1960s history for granted. I was envious of their libertarian past though. They eventually fell in quite easily, as I did, with the anti-discrimination, civil rights side of the disability movement and they naturally did not regard me as a stranger when I became disabled.
The residents of the house, though, were party animals. Delicious food, music and dancing. As my condition progressed, I found different ways to participate: while I was using sticks, I could do a bit of dancing, but I mostly found somewhere to sit, and took pot luck as to who came to sit next to me, and with what food and drink they brought. By the time I was using a wheelchair, the parties had evolved into very smart garden parties on the large lawn behind the house. I never complained, as do some of the more experienced members of the disability movement, about just being at the level of people's bottoms -- children are at that level as well, anyway, and I never had any difficulty in attracting people's attention. But somehow I found myself outside the mainstream, looking in.
9. Time Out
After my first visit to Australia - more travel than holiday -- Tio decided to go back to see her mother in Brisbane as often as possible. I thought I could do alternate years. We did wonderful things like barbecues in the forest. Tio's sister June passed me a sausage. I had only just got hold of it when a kookaburra, which I thought was part of an attentive audience, swooped, seized it from my fingers and flew off with it on to a branch, where it proceeded to try to beat it to death. We went to see the black swans on the Swan River. Australian birds seem to like getting intimate -- one swan tried to stick its beak up my bum. In Perth, we went sailing on the river. With the city as backdrop it was a humbling experience. But as anyone who has MS will tell you, it is difficult enough sitting upright on the ground, let alone on rubberised canvas strung between two hulls. We managed to sail towards the skyscrapers and back several times. It was marvelous.
I remember we had a quick look at central Brisbane that time (I'd already made one visit, to the Gabba to an England vs Australia test match. Nearby, I'd experienced things which are only possible when you're travelling on your own. A surprise - only my second contact with Aboriginals - a very black group of men drinking on the street. They were so unexpected that I experienced them as alien, only later rethinking that. The other encounter had been in Towoomba. The family living next to Eileen were black. All clan social discourse took place in the yard at the back of the house: family and friends would sit out there all the time. After a row, the husband was banished with his belongings to live and sleep out in the yard.
Although as always, I enjoyed it, I don't remember the cricket, but I do remember a horrible meat pie, sitting on the grassy 'hill', and coming in for some mockery when I walked unsteadily in front of it. (I got off lightly: others were pelted with beer cans).
On our next visit to Brisbane, after I had hired a scooter, we walked in the sun with Tio's family along the South Bank and stopped at a restaurant for an al fresco snack and a drink. Drinks! I have learnt to be very wary. But my circumstances were worsened by an over-attentive friend. Being unsure and I think quite scared herself, she had drilled the children with stories of how very important it was to look after disabled people. And so I was obliged to follow one child who took me in quite the wrong direction along the waterfront in search of a toilet. My helper could have just pointed out to me where the loos were. I ended up trying to dry myself under one of those hot air drying machines: without success, so that I just had to blithely and embarrassingly wait until the sun dried me off.
This unsettling experience led me to one of my favourite places anywhere, the Kenmore Shopping Centre (sardonically renamed 'Kenmore Resort' by my Brummie brother in law) in Chapel Hill, Brisbane. Here, you can find, within easy reach of the scooter rider, practically anything you want: a postcard or an accessible toilet or a stylish new pair of trousers, with a superb cafe called Bliss nearby. But best of all, there is a chemist, where I found some pads for men which would soak up a reasonable amount of urine if the user was taken short. Gratified as never before by a shopping experience, my Bliss banana smoothie tasted heavenly.
Despite the progress, in other words deterioration of my condition, I looked forward to my subsequent visits. Queensland is often too hot, and we visited Eileen in winter (our summer). The sun is nearly always out, the temperature usually over 20°C, you are never far from a swimming pool, and I took a portable fan in case I seized up: if I overheat, I can't move at all and get really frustrated and verbally abusive.
One year, my sister Kate very kindly asked me where in Europe I would like to go while Tio visited her mother in Brisbane. We decided on Prague. Happily, Kate's husband, Philip accompanied us. I took my manual wheelchair, and it took all his strength to push me round the cobbled streets. It was a terrific break, both for me and I'm sure for Tio.
Tio and I returned to our old haunt, Ibiza, several times after I was diagnosed, turning to mopeds, rather than bicycles for our tours round the island; still finding beaches off the tourist track and delighting in the Mediterranean seafood cooking, or watching the farmers bring in their harvest: sometimes it was just a question of shaking a tree, so that its fruit would fall to a sheet spread out below. The last time we went, we decided to sample the famous nightlife of the island. We knew it started late, and so we turned up at the best known venue at midnight. It was deserted. We asked a stray pedestrian if we'd got the wrong night. He shook his head: " It starts soon." but soon did not mean in one or two hours, so we decided to call it a day and go home to sleep.
I like France too much not to spend some summers there. Accessible resorts and gites are few and far between, but we found some campsites which accessible mobile homes. They had ramps up to the doors and accommodated my powerchair very well. It would need a contortionist to use the showers, but Tio gave me a bird-bath, "So long as it's just on holiday", she said. These campsites always have swimming pools. Even if the French idea of access is slightly different from what you find in the United States or the UK, they are fun when you're on holiday. "Who knows who you might bump into." Campsites are ideal when you have a child who needs company, (and they do, they do.) Lewis found lots of children to play with around the site. He just stood and stared, and joined in their games, and then enjoyed the kids' clubs, which are run a lot of the time. It meant we could relax with a croissant and coffee.
***
Tio and I used to enjoy accompanying my mother on holidays to Southwold – a time-warped resort on the Suffolk coast. It is distinguished by an absence of noisy slot-machine arcades and the presence of plenty of antique shops. We found a cottage right on the front. Mother used to spend hours sitting on the veranda greeting passers-by. While I could, I went cycling with Tio alongside the harbour and over the river to Walberswick. At one time it had attracted a colony of artists, including Stanley Spencer and Rennie Macintosh. The light and the rattle of the waves on shingle still appeal to watercolourists. I kept up my sketching when I went there.
It was early July. One day we had seen some swimmers wading in from the beach between the breakwaters. So I decided to go for it: "Coming in?" I ventured. "You must be joking," Tio shivered at the stubborn English habit of bathing in the North Sea after a spring cooling in Arctic currents. Although she is a strong swimmer, she had no intention of even dipping a toe into a 'freezing cold' ocean, "specially one with no lifeguards". So, with Tio standing on shore ready with a towel, hoping she wouldn't have to come to the rescue, I picked my way over the shingles and plunged in. The water felt freezing, but then I had known it would be cold.
As I struck out for the end of the breakwater, I felt invigorated. The water was a brownish-grey colour, but I reminded myself of Tio's mother Eileen's Queenslander remedy for everything: sea water. From one breakwater to the next and back. That would be enough. I was beginning to tire when I reached the end of the first lap, "But then"; I thought as I began the return leg, "I'm nearly there". And so I resumed my redoubtable breaststroke. The finishing point now seemed a long way away. I glanced at M's anxious posture and welcoming towel, and veered off course towards her. Each stroke was becoming more difficult to make. I thought of waving at her, but a combination of reluctance to sound the alarm and calculation that any attempt to stop and wave would have me floundering and foundering decided me to carry on dragging myself through the water, and finally crawl onto the beach and into Tio's arms. It was a short stumble back to the house: Tio ran a hot bath, and as the towel dropped from my shoulders said "You've turned blue. I told you the water would freeze your bollocks off!" It took me an hour in that bath to thaw out and discern that all my body parts were present and correct.
In the UK, it has been up to the Swedes to find the perfect solution to inland holidays for the enborgouisified masses; not only this, but Center Parcs provides a better grade of accommodation for disabled people than almost anywhere else. Readers might be aware, through experience or gossip, of the formula: a " Tropical Swimming Paradise" surrounded by shops and restaurants and all enclosed in a glass dome, planted in a forest, with villas dotted about. A selection of villas is equipped with spacious, accessible bathrooms. The staff are all trained to be helpful to disabled people, and the pools are equipped with wheelchairs that can be pushed down a slope into the water to enable disabled people to swim.
Hospitalization
We booked late for our last holiday in Southwold, and in September, and so we missed our usual house above the beach. The new one wasn't bad, but it brought the rain and broke the spell that the town seemed to cast over our July breaks. Mother went home early, possibly because we had our new baby and couldn't give her as much attention as usual. One of my sticks slipped on the wet concrete drive as we were packing our car; I fell, broke my leg, and almost sunk my teeth into the car tyre to ease the excruciating pain. Someone called the doctor and an ambulance. Both were very welcome, and necessary. The doctor gave me a shot of analgesic; the ambulance paramedics scooped me up and kept the pain-killers going. Ipswich Hospital orthopedics immediately operated, fixing my fractured femur with a steel pin stretching from hip to knee. Meanwhile they transfused me with several leg-fulls of blood. A helpful nurse told me later that in wartime many soldiers with broken femurs used to die from loss of blood.
I got acquainted with the other inhabitants of the ward. The first question was: why were they there? One elderly man had left his alarm pendant in the bathroom. He fell over and fractured his arm when he was getting out of his armchair to go and get it before he made a cup of tea. It took him hours to inch over to the other side of the room, where the alarm system was based, and then reach up from the floor and press the button. By the time help came, he said, he was really desperate for that cup of tea!
One man had fallen off a ladder while trying to replace a tile on his roof and one young man had been playing an informal game of football in the lunch break at work and had kicked a curb instead of the ball. Ouch! The composition of the ward kept changing in about even numbers between genial local people who have come to grief, and very ill elderly men confused by tubes inserted into their wrists to provide them with life-giving nourishment or catheters to drain away the liquid byproducts. It is a real problem for a nurse to explain to a bewildered old man exactly why he has something protruding from his penis, and tell him off for clutching at it.
While I was hospitalized, I was encouraged to drink as much as possible; they fitted me with a catheter to drain away the contents of my bladder. This seemed to me an admirable situation. MS makes you lose control of the muscles regulating the bladder and so you are forever wanting to have a piss, sometimes very urgently. Doctors had prescribed me tablets to solve the problem, but they were never very effective. And so it was a relief to be comfortable, at least in this department, while I was in hospital.
But it was wonderful to be back home with my little family. My sister Kate and my friend Liz, who had helped Tio come to see me more or less every day, were also there. I was overwhelmed to have them all around me. Convalescing was nice too. Until that is, I was knocked over again by my bladder. I felt as if it had been taken over by one of those mediaeval fools, inflated, and swung around to belt me in the belly. "Aha!", said the clown, "You thought you'd got that sorted. That was just a trick. Let's get real." Try as I could, I could not wee. The pain became excruciating, and so there was nothing for it but to call the ambulance to take me to casualty, where to my great relief they inserted a catheter once more.
Unfortunately, the doctors decided to keep me in King's College Hospital, in one of the massive old general wards, where the nurses, at full stretch in those Thatcherite days, busily strode up and down with their eyes glazed and firmly fixed on the horizon, determined not to meet a patient's eye and be coaxed away from the set curriculum. The regime in that general medical ward was primitive. Meals, washes, bottles, bedpans, commodes and a medicine trolley once or twice a day. I was surprised that this kind of place still existed. Very soon they shifted me; just, I think, in case I made a fuss in the outside world. The new ward was pleasant enough, and I soon got to know the patients in my bay. Opposite me was a terminally ill cancer patient, John, whom I liked a lot. He and his wife were concerned that in many wards where he had been treated, weak and elderly patients tended to be neglected. At mealtimes, their food was often put down out of their reach and then carted away if they hadn't eaten it. One day John fell while he was getting out of bed to use his wheelchair. I couldn't move, and there were no nurses about, so I pressed my alarm button.
After several minutes, during which John, clearly distressed, sank further onto the floor, a nurse arrived. She hauled him into a sitting position, threw a blanket over his shoulders and hurried off, apologizing that they were in their "clocking on" meeting. This is command economy "Stalinist" behaviour, in which people do what is expected of them by some bureaucracy rather than treating people with humanity. I have met it and, I am ashamed to say, done it myself. John survived. For a time.
My Hero, the Continence Nurse
Another nurse breezed in, this time to see me. She announced herself as Sue, the Continence Nurse. "I have come to teach you how to use catheter," she said. I had been briefed by a doctor the day before that somebody would come to talk to me about my urinary problems, but this plump, well proportioned woman surprised me. In a reassuringly capable way, she asked me to pull my pyjamas down below my waist and proffer my penis to her. She donned rubber gloves, produced a package about twice the length of a classroom ruler, and ripped the paper cover off the catheter. Then she squeezed some kind of lubricating jell over it and inserted it into the hole at the end of my penis. I had always thought this hole to be rather small, but having now become better acquainted with it, I realise that it's quite big enough to accommodate a 14 mm plastic tube. I helped her to thread it, right down through my penis and urethra and then, with a slight push, through a valve into my bladder. Magic! Just as if I was having a piss, the urine came peeing out into a jug. The nurse left me some catheters to try out, which I did the next time I wanted a pee. My immediate thought was what a wonderful woman Sue was. She probably has a following all over South London.
Since then, intermittent self-catheterization (ISC) has been the way I have a piss. Initially, I interspersed it with the traditional method, but it was not long before urgency, combined with lack of mobility dictated exclusive use of the catheter. I have given up nostalgia for the ability to have a pee whenever you need one for the certainty of not pissing myself or alternatively living in the toilet. Courtesy of the NHS, we ISCers simply siphon our bladders three or four times a day. I am technically incontinent of course, but I no longer feel it. There is however one disadvantageously intermittent feature of catheterisation - urinary tract infections (UTIs). As in any other interference with people's insides, it's a procedure for which medics are trained to be scrupulously hygienic. And so hands have to be thoroughly washed before you go to the toilet. Even then, we end up regularly sending little bottles of urine (why can't they make them bigger: even when I was a fit youngster I seldom won competitions at school for pin-point accuracy) to the path lab.
The doctor's explanation seems credible: "Urinary tracts are unused to material being shoved down them in the wrong direction. They're used to funneling out waste. Even if you have just stepped out of the shower, you can't be certain that you are not introducing something infectious." Inevitably, if the test comes up positive, a course of antibiotics is prescribed. For a couple of years I felt a bit like a battery chicken. No one tried to eat me though. I'm now on a low prophylactic antibiotic dose. It's very effective.
I have a dread of becoming fecal-incontinent. Although I have embarrassed myself (and Tio) a couple of times by not being able to hold on when I have been sick in the stomach, this has happily not happened. So far, the twin hurdles of transfers in the bathroom, and timing the lavatorial process at periods (mornings) of maximum energy, have been negotiated. The next hurdle (embarrassment) has to be faced.
Recovering from the two periods of hospital, I was told I needed a period of rehabilitation. Who was I to cavil? I specified hydrotherapy, and for want of other conversation when he visited me in King's, mentioned it to my elderly father – then in the early throes of dementia, but previously a formidable executive in the engineering industry.
After calling me and telling me he was hunting round, but so far had only found somewhere very expensive (£1,700 for a week), he called me back to say he'd found the ideal place, and that he'd pay. Same place. It sounded right to me, particularly since I was radioactive after thyroid treatment, and couldn't cuddle Tio or Lewis.
So I went there for a week. It was stuffed with aristocrats, and nurses. The Hon. Nadine Pepys was inseparable from her teddy bear, not to mention her collection of Pepys manuscripts at home. She talked in that vague upper class way about a footman disgracing himself once when the Royals visited - and the like. But I got a serious workout from the physios. After a week I walked with sticks for the first time since September, and I did some writing too.
I had never felt close to my father: it was not so much that we were on opposite ends of the political spectrum. He was a Tory, verging on racism at times; in the 1960s, I became a student revolutionary. From different points of view, however, we talked quite civilly about economic and political prospects. The rift between us was psychological: I just had the awful feeling that I didn't measure up to what he expected of me. He had a workshop at home, and he went and shut himself in (undoubtedly to escape from my mother), but when I tried to help him there, he viewed me with complete incomprehension, and usually shouted at me. In his old age, he had found a lady friend, who I didn't like. She gushed. Of course, I should have been more generous to him, and naturally Tio opened up diplomatic relations, so that I saw more of him.
In the last months of his life, he felt that he needed looking after, and moved into a care home. The final time I went to see him, I was driven down to the care home by my brother-in-law. We told my father we'd take him out to the pub. I sat in his room while he got ready. When he came out of the bathroom, his trousers were wet. In embarrassment and confusion, he said he would change them. I tried to take it as a matter of course: " Okay Dad, I'll wait; We've got plenty of time." But I felt for him: I knew very well what it was like, how humiliating it was, as an adult to wet yourself. I had been there. But the feeling was doubled. It was my father who stood there with sopping pants.
He got ready. I watched him shuffle from the room, and practically double up in the hallway outside. So he needed a wheelchair. A nurse provided one and pushed him to the waiting car. The generations had turned full circle. He had joined me in my impairment.
But then he died. I think he starved himself to death, bored and unwilling to squander his money on care home fees. I went over to his house in Henley, to talk to my sisters about winding up his affairs. This was a fairly straightforward matter: my sister Viv had been through the process before, with our grandmother. So I caught the train back to London. It arrived on the most remote platform at Paddington station. I sized up the walk to the end of the platform, and thought I could just about make it using my two sticks, and letting the disembarking passengers overtake me. But then I got to the end of the platform and found another of the same length ahead. I was dismayed to find a second rush of people crowding down upon me - the other way, presumably to catch the same train, reversing direction.
There were no benches, and I did not feel that I could stop a passenger in a hurry to catch a train. I leaned against an advertising hoarding: performing the task in hand, I had forgotten that I was disabled, and couldn't just catch a bus or a train. The railways have a special section to deal with unfortunates like me. At last, reaching the main concourse, I could see a vacant cab, just waiting for a fare -- and for me! Of course, by the time, severely fatigued, I had reached the cab, it had moved on. Wonderfully, a middle aged woman (middle-aged women are my saviours!) had assessed the situation, and beckoned to the cab to come back. In those days, I could just about climb on board.
Africa
To gain experience as an International Aid desk officer, Tio had to work on a Red Cross project overseas. They sent her for eight months to a successful mission in Malawi running camps for refugees from Mozambique. I was to join her for a five-week holiday mid-way through.
It had been, of course, a hard, tearful parting. I wrote plentiful loving letters, and so did she ("I stood at the edge of the waterfall. It made my knees wobberly", she wrote, in her dyslexic but very expressive way), but after a month or two hers got less frequent, and mentioned trips with various expatriate delegates. I told myself that she must be really busy, and this is what it must have been like to be an international aid worker, but had this awful feeling, which I denied of course, that her life had left me behind.
Blantyre Airport. Tio wasn't there to meet me. I sat in the shade, feeling abandoned, on the Terminal steps. I remembered what it is like to be stood up. At the age of 12 or 13, on holiday in the Norfolk Broads, I had fallen for a red-headed ice cream girl, Felicity. I arranged to meet her after work at the stall. The time came for the rendezvous, but she wasn't there! I waited, disconsolate. But who was that walking jauntily along the waterfront? Yes! It was her! The strangled, lovelorn feeling returned to my throat.
And now, at long last, relief of a kind: a Red Cross four-wheel drive came into view on the deserted approach road, and a radiant Tio appeared. Immediately, it was awkward. She had no explanation for being late. I felt like a stranger. Cutting out animal fats, without adding a vegetable substitute, I'd lost weight. I must have looked like a stranger to her, and must have felt like one if she had touched me.
10. How had I got myself into this fix?
Once or twice in the early stages of our relationship, Tio had complained to me about being involved with a partner much older than her and with a history of chronic illness. I was inclined to ignore her, feeling that we had fallen in love with the people that we were: wrinkles and all. But she's a lateral thinker -- she worries about what might happen.
......
We were away skiing, happily in bed in an Austrian alpine hotel. A break from the hurly-burly of the slopes - sport exciting for me, terrifying but rewarding for Tio. Opposite our bedroom window, across the village High Street, a disco blared.
"I've got a tickling feeling in my leg", I told Tio. Around this time, I had felt – very intermittently – a tingling feeling in various parts of my body. "Well aren't you lucky", she replied, thinking it was an even more obtuse than usual attempt to interest her in my body. "No, it's like pins and needles", I said, a note of anxiety creeping into my voice. Maybe it was a reaction to my attempts to get my legs parallel on the moguls, but I recognized the feeling from getting dressed in the morning at Craster Road. "Well, if you're worried, go to the doctor when we get back."
I didn't tell my GP – they were always too busy with much more important questions than 'a slight ache' – but I was seeing a brilliant doctor, Goldmeier, at an STD clinic, who always asked me during my consultation "Is there anything else?" He was a very attentive man in gold-rimmed glasses. He seemed, as an authority figure, older than me, but I think he was about my age. Despite his embarrassing craft, I felt confident in him. So I told him. He took me seriously, and did the balance tests to which I have since become accustomed, and with which likewise most people with neurological complaints will be familiar. He moved a pencil about in front of my face. "Now touch your nose and then touch the pencil", he said. It's the kind of test you want to get right, and I thought I was fairly accurate, but at the end of the appointment he told me, "You see someone regularly at the London don't you? I should mention it to them." In other words, I suppose, my problem could not be related to a sexually transmitted disease, but it could indicate something else – something potentially more severe than a herpes case.
I had got used to my visits to the London Hospital ever since it's staff had cured an inflammatory gut condition I'd had since I was fifteen. Aged twenty-four I was admitted with a more serious bout than usual. Each day I was in agony with stomach cramps, wasting away with nausea. One day nurses arrived by my bed and inserted a tube into my wrist. It was connected to a bottle containing a new treatment – steroids. I woke the next day feeling hungry, grateful, and euphoric.
The hospital is in Whitechapel. On each return there I enjoyed climbing the steps out of the Tube into a pavement world peopled by market stallholders and public of every size, shape and origin imaginable selling anything from hipster jeans to potatoes, saris to unwanted pop record collections. Just time for a self-indulgent visit to a Wimpey bar, or to a Jewish baker where I knew I could find the sweetest of pastries. And then over the road to a deeply familiar Outpatients Department. John Wright, the Intestinal Consultant, had become a father figure.
Many people now habitually challenge the expertise of anyone providing them with a service. But I got used to unquestioningly delivering myself into the hands of a consultant. It may be because I felt rejected by my father. I was never close to him. He was away a lot 'on business'. The plain fact is that he could not stand my mother, and felt, as hundreds of thousands of discharged soldiers must have done after the war, jealous of her loving relationship with her children. "Why hadn't she drummed some discipline into them?" I suppose I should be grateful that my parents stayed together long enough to conceive me and my beautiful sisters. Then they should have split up.
They Fuck you up, Your Mum and Dad
But let's remember where we started. "This is how in the shit I am! My life is this way"! I'm proud of what I've made of mine - well, most of it. And my sisters should be too. I remember my mum and dad throwing marmalade pots at each other in a tent on holiday at Selsey Bill. A hazardous pursuit: the area was infested with wasps.
And the inevitable seasonal row once mother finally produced Christmas dinner after marshalling whoever was available - her mother, her sister ('Aunt'), a nanny, a servant, to help prepare it. Once Dad picked up the carvers, he never could contain himself. A pained, constipated expression, eyes screwed up. 'The stuffing's too dry!' or the sprouts weren't peeled properly.
Looking back, he must have had a mighty torrent of angst to unburden: 'I've been abandoned. Daddy was killed in World War I when I was five. Mummy abandoned me and went away to Canada, and took with her my brother Bill. In the next war, Bill gets shot out of the sky. I get back from Germany; my wife's surrounded by kids, nannies and her mother: I'm still on my own.' So he dislodged just one tiny brick of dry stuffing and carefully dropped it where he knew it would hurt: on my mother's in-growing toenail.
She, meanwhile, had been storing resentments all year:
'I've done all this to establish myself as someone of consequence. I spent as much time as possible with my father's posh Yorkshire family, not with my mum, a humble nurse living in the East End. I pretended I was five years younger so that I could get my man. I gave up my job as a physio so that I could live like a lady (but it could have been just as she says: he told her to give up her career just as his guardian had told him he could not go to university). We're rich: why won't he join me in cultivating Lady Balding? He's never here; he doesn't give me enough to buy clothes for the children; he's got some floozy'.
In contrast, somehow I felt secure over the years, visiting this comparatively elderly, fatherly surgeon. It wasn't just that like Goldmeier, he paid attention to me. His consulting room had an air of calm. He dismissed nurse-orderlies with a relaxed whimsy, in the same way that he might, and did, designate England batting collapses to a mental pending tray.
After we had disposed of my gastric status – quite easily as usual – I said,
"There is one other thing."
"What kind of thing?" he replied.
I told him. "I sometimes get this feeling of pins and needles in my leg or my side"
With hindsight, I think the first sign of the MS had probably been in 1982, in Glasgow, when I noticed a change in the way I urinated: there was always some more to piss (what one doctor described once as the 'Deux Pis' syndrome: it remained with me, intermittently worsening, or becoming 'Trois'.)
"Well hop up here", he said indicating a couch.
He took me through the same series of tests as Goldmeier's.
"Is it giving you many problems?"
"No, I just thought I should mention it".
I think the verdict was "let sleeping dogs lie", and looking back, I'm grateful. After all I could still jump on to the couch. I expect John Wright thought that too. After all, the symptom which had led me to alert the medics had happened while I was skiing, and although I could have used the onset of the early signs of MS as an excuse for my frequent spectacular falls (hardly ever was any but the gentlest of runs completed without one or two crashes), in all honesty, derring-doo and lack of skill were the real culprit.
Later, after I'd been diagnosed, the pins and needles reappeared as that small shudder which I came to recognise as my own private little engine - part of me of which I was quite proud, as you might regard high cheek-bones, or a strong jaw-line. I got it in a hand: I always checked for a shake. "Hello. I bet no one else here can feel that particular earth tremor – like getting a high from a drug ".
****
I stayed with Tio at the Red Cross house, and accompanied her on visits to the camps. The Mozambiquan women, who did everything for the camp families, impressed me with their straight backs and their patience.
Tio impressed me too. As I knew she would be, she was very competent, and in control. She was revelling in having her own patch, and local staff to supervise (part of the job was to devise a training programme for them). She didn't need me, and had all these interesting, chunky Scandinavian delegates to relate to.
I lived an enjoyably melancholic life in Blantyre, Malawi. Punctuated five times a day by the call of a muezzin from the local mosque, I chatted with the Red Cross house servants (it must have been weird for the international aid workers, to find themselves, in this respect, replicating the role of former colonialists). To console myself, I painted a few watercolours. Rendering an impression in paint was a by-product.
We went away for a weekend with the other delegates, to a hotel at Liwonde, on the river. A magical weekend - did I detect, all the way from her separate bed, a slight warming of M's demeanour? Exciting thought.
The other side of the river was wild. We went there in two four-by-fours. We spotted a large boa, and then further along the track, became aware of a loud crackling noise. We stopped and got out. The din was being generated by a herd of elephants - a wall of blue-grey through the vegetation, gradually focusing into massive lumps with smaller, quicker ones getting under their feet. They were feeding from the young trees - the row they were making was the cracking of branches. I looked around. The male was watching from a distance. Looking back, the mothers went on with their destructive meal. Then at some signal, they all raised their heads, flared their ears, and stared at us. We all piled back into the cars, no less speedy than the somewhat overweight Japanese driver of the second vehicle, who otherwise seemed rather slow.
The river was stuffed with hippos. Dangerous animals, but a couple had taken to emerging from the river and nosing round the hotel grounds. One of them entered the hotel lobby, laid itself out on the stone floor, and went to sleep. The staff didn't mind, and we gained a dinner companion. We all took a motor boat trip. I was grateful to the American delegate - a flower-child type - for allowing me to unburden some of my emotional confusion. Tio borrowed a four-wheel drive for our three-week holiday. We drove up to a hotel at the south of the massive Lake Malawi. We found our room, opened the window onto the lake and tried to cool down. Somehow, simulaneously that awful, physical barrier between us began to thaw. It was lovely.
We drove north to the Nyike Plateau, an area of rolling hills, antelope and zebra. We got there. "No wildlife in sight", I said. "Look to your right", said Tio. A massive zebra was standing stock still by the passenger window. It took a look at me, stared me in the eye and trotted off.
We found the cabin and the cook we had ordered. We'd brought some food; he cooked it, and left the fire in the stove. We had a book by Laurens Van Der Post about his exploration of Malawi - dark and arcane, but it added to the atmosphere on the plateau. We read it to each other, with Tio deliciously mispronouncing words sometimes.
Each day we would drive over the Plateau and find herds of wild animals. One night we drove slowly round the plantation near our cabin, looking for leopards. Our headlights found one, a sylph-like rust, black and white creature just trotting along the track, for all the world like a domestic cat just popping next door in search of some scraps. The leopard was very beautiful.
While we were driving one day, with on the back seat an ex-pat girl who Tio had befriended, we were chatting about books. Tio said, "I've been reading Garcia Marquez', Love in the Time of Cholera". She drove a bit further, then added "I particularly enjoyed the part in which he described the loud torrent of a man having a pee." I was dismayed to find myself contrasting Marquez's image with my MS-induced old man's weak stream.
Another conversation, while we drove round spotting antelope, was about my work. I was tiring of the seat-of-the-pants process of publishing Interlink, and had various projects in mind, and described them one by one. Most included publishing, without much backing. None of them involved any guaranteed income. The hills rolled past and the sun was setting. Tio remained silent. I was reminded of a very different multiple-choice quiz when we first went out together.
"Of course I could try to get a job as a journalist", I ventured.
"That's what you should do!" she said emphatically.
Tio must have got wind, in the far reaches of Southern Africa, of the inflationary crisis of Thatcher's Britain, in which interest rates and therefore mortgage rates were going into orbit. A regular income was necessary.
On our way back to Blantyre, we stayed in a superb hotel on the edge of Lake Malawi. The hotel consisted of thatched cabins, and we relaxed in each other's company, sailing (in- expertly) and snorkelling to watch the uniquely colourful freshwater fish. We even played tennis! The rackets were kept casually, in colonial style, in an umbrella stand in the hall. The very last time we played, we were told that there would be an attendant. And so there was: a man with a broom emerged from the bushes beside the court and casually wandered over. We asked him if he was the ball-boy and he showed willing. He was black, tall and slim, with a happy grin. He gamely tried to field the balls, but he seemed fatigued. I ended up directing the balls in his direction to make him feel wanted. Tio, who after only four months in Africa had plenty of experience of colleagues going off sick and failing to return, or taking days off to attend relatives' funerals, told me later he obviously had AIDS. Thinking about it, I had to agree with her. I still remember his happy smile, though.
When we got back to Red Cross headquarters in Blantyre, we were invited to a leaving party for one of the team. This was the only time during my visit that I felt impaired by my MS. It was a drinks party, and I had to stand and talk. It was hot. My legs got tired; the man I was talking to was very boring, but it wasn't that; it was the MS. I was privately dismayed. Tio had told me how much she enjoyed dancing with her African driver. I enjoyed dancing too. I used to think I could do a passable Mick Jagger impersonation. That was about to end. Elderly and disabled people take a seat.
Does anyone ever really solve the problems in their intimate relationships? I'm sure they merely resolve them by deciding to live and let live, and I'm equally sure that I am not the first person to have observed this.
11."Look for a job!"
Back in London, I began to put my lifestyle decision in train. Blithely, I thought that, although I hadn't got a conventional journalistic career path, people might be interested in me simply because I did not have a traditional trajectory towards the job.
At that time in the UK, job adverts had started to include phrases like 'working towards equal opportunities'. I found such expressions strange: either employers gave people an equal chance, or they did not. I started by applying for local authority jobs which I felt I could do – press officers and the like – which included in the advert things like 'disabled people are under-represented in our staff, and are encouraged to apply'. I got no answer.
Next, I applied for jobs for which I was less well qualified, but which interested me more. I got some way with applying to the Economist Intelligence Unit as an East European editor (The application process was quite informal. I was aided by my study of East European politics as a postgraduate at Glasgow University) but besides a smattering of German, I didn't speak the languages. Trotskyism hadn't provided me with the necessary ruthlessness to talk my way into the job – even a job about Stalinism.
Tribune was advertising for subeditors. I applied and was invited to a shortlisting session. A group of fairly scruffy reporters were waiting for the test. Their air of resigned expertise immediately made me feel out of my depth. We were taken to a room with three rows of tables, upon which sat three rows of typewriters. I had never before used a typewriter. They might as well have asked me to use a quill to write. In fact these unwieldy great machines, green for some reason, squatting there looked toad-like and menacing. They were certainly intimidating. From observing others using such antiquated equipment, I reckoned however that I could make a stab at it. We were given a handful of press releases to turn into newspaper stories. I was very slow, but I don't think I did too badly. I didn't get the job of course.
Another interview was for the Xinhua News Agency, run by the Chinese government. I was of course unqualified for the job, training Chinese journalists in the ways of the British press. But once again my Glasgow studies must have helped me get an interview. The auditions were conducted at the headquarters of VSO (Voluntary Service Overseas). Their means of selection were to get the candidates together and eliminate people through a series of tests - just like the Big Brother house. One task was to organize the others to sort different coloured ping pong balls into different baskets and transfer them in a certain way to somewhere else. Fun! Maybe someone at VSO was having a quietly ironic joke in the light of 'ping pong diplomacy', which was the way the press portrayed relations between China and the West at the time. Anyway the fun and games only delayed the 'informal' interview. I thought the diagnosis of M.S. might cause a problem, but no: the inevitable question was asked:
"Mr. Lewis, how would you approach questions on reporting, for instance, China's invasion of Tibet".
I told them, and the interview substantively ended there. It wasn't long anyway before the Tien An Men Square debacle. Not even the most hard-boiled British hack would have taken the Xinhua line on that one. Or maybe they could have found someone.
My next tactic was to apply to disability organizations themselves. I got interviews! In each I had to confront my own prejudice. One was to edit a newsletter for LEPRA, the British Leprosy Relief Association. Of course the job would have suited me – and might have meant travel too. But I don't think I managed to conceal my appallingly prejudiced distaste for the subject.
GLAD
Finally, I applied to GLAD, the Greater London Association of Disabled People, which was looking for a disabled person to edit its newsletter, London Disability News (LDN).
As I approached the interview room, I heard someone talking with the unmistakably impaired speech of a disabled person. I was scared. "But of course", I reasoned to myself, patronisingly forgetting my own wretched frame, "there will be the odd disabled person working here".
There were three interviewers: The Director of the organization; MichaelTurner, the founder and existing editor of LDN whom I had heard talking, and who would become my manager and firm friend; and someone from the executive, the voluntary body that controlled the organization. Each interviewer was disabled. Michael explained to me later that he and the other disabled members of staff, responding to a national civil rights campaign within the disability movement, had just gone through a battle to transform GLAD from an organization for disabled people into an organization of disabled people – staffed by and run by them
It seemed natural enough to me: recalling my 1960s political vocabulary – we weren't in favour of the US running Vietnam for the Vietnamese were we? I don't know whether it was because they assumed, as an editor of socialist magazines, that I would support civil rights, or because of my professional experience (well after I'd turned Interlink into a shareholding cooperative I did get badly paid for a few months), I got the job.
From the day I started, I made civil rights – the campaign for anti-discrimination legislation, and the right of disabled people to participate in society as equals – the main feature of LDN. It was well-placed to wage the campaign. The leading disability publication, Disability Now, was published by the charity for people with cerebral palsy, and was not edited by a disabled person. It did eventually change from its emphasis on fundraising and amazing feats (parachuting, mountain climbing etc) by disabled people to align itself more with the prevailing 'rights' culture of the disability movement, but LDN and some of the local publications such as the Manchester group's, were the main printed form of protest.
Fortuitously, GLAD was based in Brixton quite near where I lived. I used to drive down Brixton Hill and park near the office. On the way down the hill, I often saw Brenda, our admirable Head of Equal Opportunities, speeding her wheelchair along the pavement towards work. Woe betides any pedestrian who impeded her progress. I suppose other footpath users had as much right as her to be there, but Brenda, a pugnacious fifty-year-old Lesbian woman with arthritis, made a mission statement of her life to redress the balance of years of discrimination
The office was on the third floor of a building which had been given to disability groups by a generous bank. GLAD was amongst other lessees, such as a training organization for people with learning difficulties, the Adult Dyslexia Organization and an advisory group for disabled students.
I walked into the open plan office and immediately felt embarrassed by being so fit. It was staffed by people with a selection of impairments that I have come to recognize in my time in the disability movement. But I found it strange. I entered as a member of a culture which is routinely prejudiced against disabled people and routinely discriminates against them. I was a disabled person who was prejudiced against disabled people; but I had already warmed to Michael, who took me round to meet the rest of the staff.
Lunchtime. I was asked if I wanted to join the sign language course, which happened every other lunchtime. I declined, but I regretted that later because it was taken by a capable-looking deaf Caribbean woman, whom I would have liked to get to know.
That afternoon, I found my way around the equipment that GLAD had got for me. I was relieved to find that I recognized the word- processor and publishing program that I would use. To this self -- trained reporter in this strange environment, it was the employment equivalent of a warm blanket. I also got to know the staff in my section as well as Michael. There was Liz, the Information Officer and Vilma, the Admin. Assistant. Liz happened not to be disabled, but she knew the ropes. Vilma was a Caribbean woman who had endless problems with her social life, particularly with her accommodation. Michael tirelessly listened to her catalogue of calamities and returned her to work. I learned a lot about management from him.
One manager, who was blind and had funky technology on his desktop that printed Braille, used to come up to my desk and talk, or sometimes he would just stand there and say nothing at all. It must be difficult not to see people's body language.
In this manager's Equal Opportunities section was a man called Wes. In contrast to his line manager, he made his presence felt a lot, with great roars of laughter. I found this difficult, because Wes worked just behind my back. He was the Transport Officer, but found it very difficult to communicate. With much flailing of arms, he could hit a keyboard. Speech was even harder for him, so he would yell. Suddenly, as I was trying to fit a three-page article into four lines, there would be an explosion behind me.
"Why? Why can't you make stashun access--ble?"
Not without difficulty, I got used to these interpolations.
In particular, Wes would shout at his assistant, whose job it was to try to understand what he wanted. He got through loads of them by rudely barking at them. Life was very difficult for Wes, and no less hard for his assistants. [He might have got one of them to help him wash, though.]
Wes propelled himself around his office space pushing his wheelchair backwards with his toes. Other characters in the office were just as zany, and often just as distracting. Sometimes there would be a crash and clatter of limbs as a young woman fell to the ground, picked herself up and happily carried on careering through the office. She had taught herself to walk using the inductive method pioneered in Hungary. Perhaps a wheelchair might have been more effective, but clearly she was proud of her achievement. Besides, physios are always saying how important weight-bearing exercise is.
A man with epilepsy came in as a volunteer – to sort files. He sat over the way from me. I would glance over and pass the time of day. But of course sometimes he would not be there. He'd be in a world of his own. I would go over, clear things out of his way, and try to make sure he didn't fall out of his chair.
Another volunteer, Geraldine, had MS; she seemed to share my level of mobility. She was a lovely young Afro-Caribbean woman – always ready with a joke about our situation: "What was I doing the last time ? Of course it wasn't the very last time. Here I am again!" She wanted to get involved with journalism, and helped on LDN. She missed a week every now and then. She told me she was periodically admitted to hospital for steroid treatment to stem relapses. After one long absence, I asked our volunteer programme manager where she was. "Hadn't you heard? I'm sorry", she said. "She died of a heart attack".
I couldn't help wondering whether her heart just could not withstand the shocks of coming on and off high doses of steroids. The funeral was a few days later, in Hackney. Friends and family had been delivered a shock too. A vibrant, [this is] funny young woman had suddenly left them. "But", I reflected, "at least she made us happier".
It was a happy office. At lunchtime, Liz got together with two of the Admin Assistants, and used to joke about the latest management silliness. You could get a sandwich for lunch at a nice little French patisserie a couple of hundred yards along Brixton Road. I used to walk there! The exclamation mark records that sixteen years ago, despite being diagnosed with MS, I could walk some distance without any trouble. The other members of staff were impressed!
One lunchtime we went on a civil rights rally. Jackie, a very attractive and fairly militant young manager, gave me a lift. We chatted as she drove. She said, "Do you consider yourself to be a disabled person?" This could have been an insulting question, given GLAD's employment policy. Also, I imagine there had been some talk about me not being visibly disabled. But I thought I knew where the question was leading. I had talked to Michael about the social, rather than medical definition of disability: you are disabled by society discriminating against you. As a socialist, this seems exactly the accurate way to see it. I thought for a bit, then said,
"Yes. Nobody, besides a disability group, would give me a job once they saw I had MS. They disabled me didn't they?"
I think I passed the test.
Once a week, the trainees used to prepare lunch in the building's Canteen. Out of a sense of loyalty, and because I liked their apple crumble desert, I used to go. Strangely enough, it was here that I had one of my first experiences of prejudice. By this time, I was walking quite unsteadily. I was carrying a tray back to the counter when one of the trainees remarked, "He shouldn't have had too much to drink this morning!" I was not visibly disabled, and he did have learning difficulties, but the staff told him off anyway. It was soon after this that I began using a stick.
Before that, despite not needing a stick and of course still imagining that I was as strong as the rugby player I once was, I began to feel at sixes and sevens - and a little bit off-balance - with the pushy London travellers and shoppers. Rival pedestrians were forever nudging past me on Underground platforms or Tube trains. But the stick served as a badge; people gave me an inch or two more room, and sometimes even gave up a seat for me. It was mostly middle-aged women who did that.
Feedback from LDN readers was very rare. Sometimes I wondered if anyone read it, but once I spotted a bus passenger apparently immersed in it. At last! Gratification! She was wearing a yellow scarf with blue spots. I was tempted to give her a kiss. I instituted an interview page. I think it made better reading than the latest horror story about the appalling treatment of disabled people in the capital. The stories of my fellow disabled activists are truly inspirational. Goia, a life drawing artist whose blindness to all but lightness and shade gave her the opening to study the way light fell on her subjects, or Alan Holdsworth, one of the many actors and performers in the movement, whose protest songs could not contain his anger: he founded a direct action movement which led him to chain himself to the bumpers of inaccessible buses or to Downing Street railings.
I traveled to the Aylesbury Estate, home of the Southwark Disablement Association (SDA). Row upon row of dispiriting concrete 'maisonettes' brought home the unity of, on the one hand my post-sixties leftism, which led me to brave the monstrous Hyde Park flats in Sheffield, and compelled me across the threshold of some stinking repulsive homes into the bargain, and on the other hand, my current situation as a disabled person. The leader of the SDA cheerfully took it for granted that the members of the Association were going to be living in poverty, scrapping for the benefits which would allow them to keep as clean and to be as well entertained and well fed as the other residents of that mean, benighted estate.
Another time, a man with MS, John Jevvons, called me and asked me to report on the way he was being treated by his local authority in South London. He got around his flat in Walworth using a walker that looked very like a supermarket trolley. When he answered his door, he was in the process of loading the trolley up with bags of garbage. We talked as he did this: "They keep sending so-called helpers who don't know me, and they don't know my needs. They come from different agencies and they're different ones every time." His particular dispute this time was that they wouldn't take out the rubbish from his flat. They said it wasn't part of their job. Well, I could see that he could open the door of his flat and push the rubbish out, but wasn't sure whether he would be able to get it in the bin. But the point as I saw it was that anything like that would tire him out. Social Services should have understood that.
When he'd finished loading the trolley he pushed it to the lift, and then along Walworth Road until we got to the Town Hall. There was a ramp to the entrance, and he then tipped all rubbish out of trolley in front of the vestibule. I took a photograph, and then we went our separate ways. He to his lonely flat and I to my employer (where as a disabled person, I felt I could do a useful job) to write up a report.
GLAD, like many charities in that period, was bedevilled by financial problems, and again like many charities, had only one solution – save money. Our Financial Director would march into staff meetings, already divided into pro and anti management factions, and announce that we were using too many paper clips. I had seen no one filching paper clips and ventured to ask how saving on a few items of stationary would fill a £80,000 hole in GLAD's budget.
I was leader of the opposition at these meetings. There was always a lot of support from the younger managers (whose positions as members of the 'management team' were compromised), staff members who were not used to speaking out, and some of the able-bodied staff who, unjustifiably, were reluctant to go over the top within a disability organization.
Eventually, we were strengthened in the battle both for civil rights and against the internal GLAD bureaucracy by Brenda, like me, a veteran of 1960s protest movements; synthesised in her case by the struggle for lesbian and gay rights. Like Michael, she was an excellent manager, but in a different way. Michael quietly and with a great deal of bonhomie, got to grips with the character of his team members: " Vilma, just why are you looking like that? Don't tell me your kitchen's flooded again? Take the morning off and get a plumber in!" -- and approached their problems that way. I decided on a redesign for LDN and was stuck for column headings. Michael's suggestions were spot-on for congested London. The Letters column became 'Leaves on the Line'.
Brenda fortified the staff members' civil rights outrage, and she also injected her own Aussie work ethic into managing her little department: slacking was not a God-given right for Christ sake and would not be tolerated. Later, she came up against a new regime at GLAD, which hated her high profile and tried to sack her. She took them to court, won the case, and that was the end of GLAD.
In 1995 the Disability Discrimination Act, encoding civil rights for disabled people, was passed. Hurrah! I felt so privileged to have been part of the movement that had made it happen (a small part: I hadn't been there at the start: if there had been a start, more substantial figures than I – Mike Oliver, Jane Campbell, Rachel Hurst and Alan Holdsworth in the disability movement, and Peter Campbell and my own sister Vivien Lindow in the mental health service users movement, were thereabouts).
These years at GLAD were turbulent enough. I got immersed in the disability movement and in the internal politics of one part of it, and I learnt to consider myself a disabled person. Almost incidentally, I learnt how to do a regular job of journalism. But my personal life was just as challenging. Tio got back from Africa: I organized a Christmas holiday for her and her sisters at Lands End. The gales and wild seas crashing onto the rocks must have been both frightening and liberating for Tio and her sisters. I watched the others walk around the rocks, but found, much to my chagrin, that I couldn't take the same risks. It didn't take me long to realize that Tio was unhappy.
A new apartnership
Tio was still restless. She found a job in the Red Cross Geneva HQ working with a senior official devising a policy on refugees. Friends warned her that this manager was quite mad, but Tio agreed to the job anyway. She was tiring of the Red Cross in London. I devised a plan to consolidate my three days per week at GLAD into three weeks in Brixton and one week in Geneva so that I could join her. I had always liked the idea of living abroad, and it worked – for me that is. Tio, already feeling discontented, was driven further round the bend by her superior's control-freakery. All I could do was keep her company and busy myself getting things for her flat. I enjoyed taking washing to a Swiss launderette, but found that my confidence, dented by disability, made the relatively simple process quite hard. Still, I was bold enough to make use of my smattering of holiday French, and made one or two friends.
Of course, disability threw up other obstacles. I stood at the top of the long, deep escalator at Hyde Park Corner Tube station and wept. The escalator was not working. A station worker had hastily scrawled an 'OUT OF ORDER' notice and strung it limply from a post. It was the second of my week's Geneva visits. I had packed a suitcase with not only my things, but some essentials from M's flat and from London's shops -- a coffee pot; Bob Dylan CDs (she had grown up listening to her sisters' 60s music). I had targeted Hyde Park Corner because I could get almost directly from a cab via an escalator onto the platform for Heathrow, and then a safe transfer to a Departures luggage trolley. I was fairly proud of this plan, being used to leaving things mainly to fate.
That is why I was standing there dismayed, watching how everyone else was managing. And then: salvation! A middle-aged woman approached me. "Need some help?" she asked politely. How did she know? I hadn't asked, nor was I wailing. She must have sensed my predicament from my body language. I told her I wasn't expecting the escalator to be . She did not hesitate. She took hold of my baggage, trundled it down the stairs, and then waited while I plodded down. As much as I feel frustrated that society – capitalism, the market, and the social structures that belong to it - are structured against those of us who are disabled, I feel a great love for those whose humanity gets beyond its narrow utilitarian margins.
The Geneva experience led to a crisis in our relationship, the kind that happen often in partnerships but was happily resolved. Back in London Tio suggested that she move in with me. I was delighted of course. When I first knew her, naturally, in my 1960s manner, I wanted to live with her. Maybe it was the 1970s or the 1980s that did it, but the fact is she had a very different idea about relationships and independence. It was probably a combination of growing up with all those sisters at a time when the feminist ethic was becoming influential that made her individually so sturdy. I had come to realize that living independently, apart, somehow reinforced our relationship. It seems we appreciated each other. Now, I was thrilled with the degree of intimacy that living together would give us. Tio meanwhile, seemed to have begun to realize that some of her unhappiness stemmed from living in a housing cooperative founded by a different generation than hers.
And so we were living together. "How have I got this lucky?" I thought as I watched her unpack her things, girl's things, into my bachelor quarters. Although I had entertained a number of women since my marriage broke up 15 years previously and spent most weekends with Tio the last eight of those, it seemed like a luxury that I did not deserve, to be living with her. For her part, Tio has been agreed on my luck, chronically ill and 16 years her senior, to end up with her. Actually, I've always disagreed on the '16 years'. It's 15 ½. Those six months make all the difference. The fact is, we loved each other. We enjoyed living together, and it wasn't long before she was flattering me further by suggesting that we have a baby. We ditched the contraceptives.
Tio liked the house in Brixton Hill, and so she was disappointed when I said that I thought we should move somewhere without so many stairs. I felt it made sense. So many of the disabled people, some of them friends who I had met through GLAD, struggled for too long to stay in homes in which they could not get around, pretending that they could manage even though they had to come down the stairs on their bottoms. And so I started to look elsewhere.
Changing times
Meanwhile, towards the end of the 1990s, GLAD hit trouble once more. A memo to staff requested our suggestions on generating income or making savings, and mentioned the possibilities of redundancies as one means of doing the latter. As editor of London Disability News, I had been getting an increasing number of requests to advertise jobs. I had already started to charge for recruitment advertising. It occurred to one of the volunteers working for LDN that a monthly recruitment bulletin could cater for not only the disability movement, but also the increasing number of companies who wanted to extend their workforce to include disabled people. I thought it could be a money-spinner, and I proposed it to the management as a source of income.
A few weeks later, I was in bed with a rare cold. GLAD's Director called me. She said that I had been selected for redundancy. Although I realized that my income-generation ideas did not stand much chance (there was little history at GLAD or similar charities, of innovation and even less of entrepreneurship), I was shocked at the idea that they might dispense with London Disability News in general or with me in particular. Naturally, the next day I went to see the director, who told me of course that dispensing with me had not been her idea but that of an independent assessor. I said, "Well, what did your assessor think of my idea for a recruitment bulletin?" There was a tortured expression on her face while she racked her brain for any pigeonhole containing my proposal. " He can't have thought that was appropriate", she said lamely, "but he did propose that you should continue employment, part-time as a publications editor."
Those last words rang a bell. Fortuitously, on my desk as I had returned to work that day, I found a circular advertising a Publications Editor job at another disability charity. Disability Awareness in Action (DAA) offered me the job, accepting my provision that I was just going to produce their newsletter. DAA produces an international newsletter, which promotes awareness of progress in the disability movement worldwide. Suddenly booted out of work, I had landed in a position which not only was better paid, but fulfilled my internationalist instincts, still alight after my 1960s Marxist education.
I was in my element publishing letters sent to me in often near-perfect English from the further reaches of Sierra Leone, where disabled people of were the lowest of the low, or from India where they had a bit more. DAA was run by Rachel Hurst, who in the past I had found rather overbearing. I remembered that she had told me off for not standing neatly in line in the Westminster queue for a lobby of Parliament. But she left me alone to edit the bulletin: just what a writer needs. I only crossed swords with her once, when I had failed to comply with her instructions to produce a pamphlet: by then I was ready to leave and embark on a new venture: Ready Willing and Able Ltd, the recruitment bulletin I had proposed as an income generating idea to GLAD.
12. Ready Willing and Able
Once GLAD had given their budding entrepreneurial editor the sack, my former colleague, Michael Turner contacted me and suggested we go ahead with the bulletin together. I don't think I'd received such a vote of confidence since winning an essay prize for a story about ship wreckers at the age of 9 at my prep school. We worked on the idea part-time while I was at DAA. We decided to form a limited company rather than a charity, because we were fed up with disabled people being the object of charity and thought we could do just as well as anyone else at running a recruitment publication. We called it a recruitment bulletin for disabled people, but Tio, who had some grounding in business, enlightened us that our target customers were not those disabled people, but the companies which wanted to open up their jobs to them, and advertise with us.
The first issue of Ready Willing Able (RWA) came off the press in 1999. It was an A4 bulletin. To emphasize the functional nature of the publication, it had no glossy cover. By calling firms which were advertising in other magazines, we soon got a few advertisements, but not enough to pay the printing costs. So we were looking for a sponsor right away. Michael had noticed that Railtrack (pre Margaret Thatcher it used to be known as British Rail) was making a lot of noise about recruiting disabled people. He also knew, as one does in the disability world, the woman who was running their campaign. I wrote to them, and they agreed to sponsor us.
The magazine was free to subscribers, distributed by the printers. I ran it electronically from home. Getting companies to advertise jobs was quite easy. We only tried employers who claimed they were equal opportunities employers and their personnel managers (known in later, post-modern times as human resources managers) often liked a chat once they knew who was calling. We advertised in RWA for disabled people to sell advertising for us from home on commission. We found somebody quite brilliant: a blind man, who would not stop talking about RWA. He filibustered a fair number of recruiters into taking space, just so that they could get him off the phone.
One government scheme was extremely helpful to us in setting up and running the business: Access to Work, run now by Job Centre Plus. As I was working from home, the scheme paid towards a ramp to the house and a powerchair to keep me mobile. It also paid for a part time assistant to help me: I had become so slow at the office work that I had no time to run the company. The assistants were employed by the Employment Service, and so I took the role of their line manager. It was tempting but would have been unethical to put my assistants on to telesales, but I got them to do most other things in the office, including a fair amount of research.
Some of the young women who came were real treasures, including some who could have run the office on their own, but most assistants didn't stay very long: they weren't very well paid and the position was not permanent. But some did stay a while, including one placement, a young man who didn't smell very nice. How to tell him? … "There's a funny smell in here. Did you have a bath this morning?" Or even, "Have you got a bath in your house?" Or "Joe, has anybody ever told you when you're working in offices, you need to keep clean?" Or - the easy way out - offload the problem on to his employers. In the end I just had to take the bull by the horns and tell him: "Joe. There's this new deodorant on the market. It's really brilliant. I think you should try it". He lived with his mother. I did her a good turn.
Queens Square
Meanwhile, I decided to take up an offer that had remained open since my brush with Moorfields. I transferred my neurological treatment to the National Hospital for Nervous Diseases (now The National Hospital for Neurology & Neurosurgery) at Queen's Square in Central London. There I saw (and still see, at intervals of six months, or now, one year), a young, very kind and very studious, owl-like neurologist with whom I discuss the latest research into MS (he has initiated some of it himself). He makes no attempt to pretend that he has an instant cure, but talks about the various ways of managing the disease while the research goes on. He and his colleagues have run several research programmes into 'relapsing-remitting' MS. (The disease often, particularly in its early stages, attacks sporadically and with varying intensity.) He is now conducting a trial of a drug, already used for epilepsy, that might be effective against inflammation in patients with progressive forms of MS like mine.
Friends and relations often let me know about new 'wonder cures' that they have read or heard about. And then there was the young woman who wrote to the MS Society magazine, claiming that she had found a potion which had cured her MS. Rumour had it (not inspired by the company itself, I'm sure) that the chief constituent of the medicine was Coca-Cola. This correspondent achieved a certain celebrity for a time but inevitably, the 'cure' went the way of all miracles. What happens, I think is that the adherents of these remedies convince themselves and their friends that, apart from a few setbacks, they work. Double-blind trials have as yet found no treatment which arrests the disease.
13. Making a baby
The Daily Telegraph Information Service clearly did not often get asked the question "At what time of the month is a woman most likely to get pregnant?" They charged me five pounds and sent me back some birth control photocopies on the times of the month you're most likely not to get pregnant. By a process of elimination I worked out that the best time was fourteen days before a period was due. But I didn't tell M. That way I thought it wouldn't appear as any great deal when I suggested sex. She didn't get pregnant. I thought I'd better own up to what I'd done, and we tried again for a couple of months. We had several false dawns and Tio tried keeping charts that used temperature as a guide to fertility. None of this worked for us. she didn't get pregnant anyway.
' Performance anxiety' would have been natural at this time, but the pressure of having to perform can be, and often was, too much for me.
The problems continued and so we made an appointment at Kings. I was to provide a specimen of sperm, and had to do it on site. To fail the test would be an affront, despite having already fathered two children. So at King's I was directed to the fertility unit, which like most hospital departments at that time seemed to consist of a corridor. A nurse gave me a bottle, told me to write my name on it, and wait for the key to the room in which I was to produce my specimen to appear on a hook just inside one of the offices off the corridor. The full bottle was to be placed in a wire 'in-tray' just below the hook.
I sat on a chair by the specified door, wondering if everyone who came past knew why I was there. A few men came to the door next to me, and each time I looked to see if they had left the key (or a bottle, come to that). Eventually, a swarthy man who had been hanging around with his girl-friend when I arrived went into the room. For some reason I had decided he couldn't be the possessor of the key. But when after five minutes no one else came I thought I'd better check, and there was the key on its hook. (No bottle though).
The key unlocked a room just like any other doctor's waiting room, but for the magazine supply: back issues of "Forum" and "Busty Babes"; so after a deliciously furtive look I just shut my eyes and proceeded.
I passed the test! Or rather my sperms did. I'd always admired them – ever since, after what seemed like hours of surreptitious eleven-year-old rubbing in my prep school dormitory bed, I had produced my first orgasm and a few weedy drops of what we called spunk.
They did the trick a few weeks later. Tio noticed her period was late and she went through the rites accompanying a first pregnancy: our GP did a doublecheck; we viewed a scan of the uterus: at the time our baby looked like a mushroom; and Tio was told about midwives and antenatal classes. It was a fine autumn day. Our appointment was for ten. We decided to walk over the park and get the bus up Herne Hill and down Denmark Hill to King's College Hospital. This was a trip I'd done many times to keep Physio or counselling appointments. I reassured Tio, who always feels anxious venturing into the unknown, even to the other side of Brockwell Park, that I was feeling very fit, otherwise I wouldn't have tried the walk. I had feared that a stroll over to the Lido during that summer's long hot July might have been the last of that length I would do.

Still, we set out, and climbed the hill towards Brockwell Manor in high spirits, relishing the beginnings of the autumn. We can seldom have been happier, taking a morning off work together, and anticipating seeing our little mushroom on a screen. Once we'd got to Herne Hill, we caught the bus. Everything on the street looked serene: mothers pushed buggies; pedestrians chatted happily. The King's ante-natal clinic didn't seem to be expecting us, but since we were early, the white-coated scan technician ushered us into her lab. Tio lay down and bared her belly as before. I drew up a chair nearer the screen, so as to be able to see better. The scan commenced. First, we saw conical light areas (which I took to be fat!) drifting across the screen, and the darker area of the uterus. Unfortunately it was bad news. The technician kindly explained that there was no heart beat.

Of course the disappointment was overwhelming. After we recovered we tried again … and again. We tried our own artificial insemination. After the first occasion Tio got pregnant several times, but each time it didn't work. So then we tried IVF, on the basis that any resulting pregnancy would be closely monitored. It involved me using the same waiting-room. As I handed in my sperm, I thought that it was at least something that I could still do. Tio was philosophical about it all. The end justified the means. But in the end it didn't work. And there was another end and it did hurt. The surgeon had selected two from a number of potentially viable embryos. The rest were flushed away. We had gone to a lot of trouble to create her little embryos. Another bereavement for us.

After this episode, we had more difficulty with intimate acts and I looked around for answers now with my decreased agility (I had always been far too inhibited to leap about primally) I was even more tentative than usual. I suggested that we talk to somebody, which we did. Previously I contacted an organisation that provided advice on sex problems for disabled people. A kindly, gruff, elderly man supplied me with a device but it was too artificial to use.

Now, I knocked on a South London door vaguely reminiscent of that semi in Hastings – no reassuring official nameplate, just an ordinary semi, but the man who we encountered in the sitting room, Mr Burgess, was reassuringly self-effacing. We told him why we were there. I proudly announced that I could still get an erection, and ejaculate, but something about the challenge – maybe just having to prove myself (I could never get started on an exam paper for at least an hour) or the 'instrumental' problem of reproduction was deflating.

Over several weeks, I felt he was manoeuvring towards what I as a complete amateur think is, or should be, the conventional sex therapist's prescription: abstinence, then a slow progression through various base camps of touch and caress to the Full Monty. One chilly autumn evening, as we were trying to distract ourselves from those instructions by mulling over holiday plans, I felt something, the distraction had obviously worked.

Another few weeks later, we were at the window, watching trees and foliage swirl in the wind and waiting for anything to show up in another window - the little crystal-ball aperture of Tio's latest pregnancy test. (She always needed help to ascertain whether she was imagining what she saw). No, she wasn't imagining it. She was pregnant again. We rang and cancelled our appointment with Mr Burgess. In a way, his counsels had been effective.

What also turned out to be effective was that Tio had signed on to the fertility unit: Tio clocked in for a confidence-building scan every week during the first crucial months, and we made new friends at the ante-natal classes. It was a happy time. My worthiness count was further increased by meeting the women whose partners had not even stayed around beyond the pregnancy test.

The time came for our baby to be born. Came and went. Two weeks beyond B-day Tio was admitted to the St Thomas' maternity unit and given a pill. I was sent away to await developments, keeping in touch by phone. Tio told me that to while away the time, she was pacing around. Actually, she was in labour: but given her history I suppose, she didn't recognise the obvious. Eventually she fired the starting gun, and I drove over to the hospital. I took my wheelchair: as I was determined to be present at the birth, I knew that I couldn't stand for what would certainly be a protracted process.

Six years after our baby Lewis was born, I watched a scary TV drama series called Bodies, in which an overweight medic sits in on Gyney Unit meetings stuffing herself the while with toffees and never says a word – just makes up the numbers. I recognised the duty midwife who had officiated at Lewis's birth. She gave us the impression that she had seen it all before – which was undoubtedly true – but the lack of eye contact and her concentration on sitting comfortably in a corner away from the labour-ward bed filling in a form gave me no confidence or recognition that bringing a new life into the world meant anything more human than checking a bus into the Camberwell Green garage.

In the labour theatre, I positioned myself beside Tio, so that I could hold her hand, grip her thigh, and give encouragement. I was, incidentally, on the same level as the business end of the proceedings though I was not in direct view. Later she was to tell me that she wished I had been closer. (Sitting in the wheelchair, I was considerably lower than the raised working surface of the bed). I suppose she meant, I should've been in a position to give her a hug and kiss. And I should have been.

But that is symptomatic of our relationship. She wishes some things were not the way they are. I suppose this happens often with people who experience illness within their relationship and is natural. Also with partners with a big age gap. This was her choice;[ the previous periodically requires renegotiation as the ill partner loses one faculty after another]. I was flattered and happy that she wanted to have a child with me, but Tio is not usually one to ignore the implications. Quite the reverse: she looks at things from every angle: lateral, full frontal and as if she was on a satellite circling around them. Sometimes, it is tiring because of her zeal. 'Let's get some chickens' … 'But what about bird flu?'. But generally, it works: 'Stuck at home in South London with a toddler?' … 'Start a magazine for parents and toddlers.' 'Disabled husband?' … 'Move nearer his family so that they can help.' … 'Better for the toddler too to be out of South London, anyway.'

But I too had some lateral feelings about that labour theatre. Beside me, Tio's maternal flank became a strong sea wall, protecting her calm belly harbour, from which the baby would assuredly emerge. Both the baby and I gained confidence despite the rigours of labour. Lewis went aground more than once during an arduous journey along the canal, but emerged, crumpled and crying from the shock of at last accomplishing his first training passage. (The midwife had adroitly avoided having to do any labour herself by calling in a doctor as pilot when the boat got stuck). Mother and baby were very happy. Me too. I did not feel at all disappointed by my role as a back seat spectator. It was their scene, after all.

I got back home from St Thomas's at 3.30 am to find the dedicated parking bay outside my house occupied by some jerk who didn't recognise the right of disabled people to have a nightlife - or even have a baby come to that. I parked the car in the middle of the street and shouted with frustration at having to use my sticks to walk the100 yards from the nearest parking space to my house. Then I calculated that I could do it if I stopped halfway and sat on somebody's car. But what if it had one of those alarms that woke everybody up in the neighbourhood when it was jogged? It took a long time, sitting there crying. When I dried my eyes, I realised that most of the tears were a release from the emotional turmoil of the last few hours: a homage to my wife and new child. As if in recognition of my plight a nightshift worker ran from a house three doors from mine, jumped into his Renault and left a space.

About a child
"Are you sure you want to go through all that again?" This from my friend Finbarr, father of four children already, when I announced that Tio and I were trying for a child. "Certainly we are: children are part of the human condition. After all, someone's got to have them," I replied that it is true that I have enjoyed my first two children immensely, but it was the 1970s when they were little. I had been an activist in, or should I say a victim of, a Trotskyist sect dedicated to a Hegelian abstraction: 'world revolution now': childcare had been low down the agenda.

After my first two children were born I did take four years sabbatical from the struggle but mostly I left the parenting to my wife, preferring my monkish penance: forlornly trying to sell the sect's papers at the factory gate while she got the children up. When I got back home I used to accompany them finishing breakfast, out of the back garden gate, down the cinder garage track, round the corner, alongside the playing fields, and over the road to the primary school. Zoë has since, rightly, castigated me for my absence from her childhood, while I was trying to live up to a Leninist fantasy.

This time, in spite of my growing lack of mobility, I determined to do better. I was lucky. In the interval between my second and third child, disposable nappies had supplanted the other kind which always used to end me up splattered with a kind of yellowish-green slime. "That's poo dear," I remember my former wife Claire reminding me. "We all do it."

It seemed natural enough while Tio was breast-feeding the baby, that she took the lead role in child care. She organized weaning and daytime childcare, but suckled him herself in the morning and evening, while we both worked. By that time I was working from home editing my bulletin, and so I could tie up some loose ends in the house while Tio worked. She also cooked, shopped, did the washing and looked after Lewis. I washed up and did some tidying and a bit of cooking. Of course it wasn't fair, but it seemed fair enough to me. By that time, we were both working part-time, and so I was able to watch the baby as he developed into a toddler. Often, I minded him while Tio was busy with her job or in the house. It occurs to me now, but it didn't strike me then, that he was gaining the ability to walk while I was losing that ability.

Harborough Road
Before Lewis was born, and during the protracted and emotionally wearing business of procreation, we had decided to look for a new house. M, reluctantly - she liked, I think, the rite of passage that Craster Road represented for her. But I knew that my condition would sooner or later stop me from climbing three flights of stairs. I was delegated to search. It had always mystified me that estate agents had such a bad reputation. I now learned why. They invariably replied to my letters explaining what we wanted (something for a disabled person with level access, no steps or stairs) with sheaves of paper describing flats that, if they weren't on several floors, had internal steps or could only be reached down a flight of steps to a basement. In short they were inaccessible to me, or to anyone with mobility problems. They clearly could not conceive that a cripple could live anywhere else but a hospital or some other institution.

We did look at one or two ex-council flats just south of the river, but none of them came to anything. I was sure something would turn up. And eventually it did. My African experience, in which I had turned up to visit my lover looking like a scarecrow, had decided me to visit a slightly more fashionable hairdresser than Brixton had to offer at that time. I moved upmarket. In south London terms, that is not as far as Chelsea or even Clapham, but to the petty-bourgeois, lap-dancing, bowling, traffic-ridden world of Streatham High Road, where restaurants compete with glitzy Elvis acts, and rival hairdressers – 'Upper Cut', 'Dressing Room' -- open and close every week. Newly shorn and self-confident, I strolled out of 'Hair and There' straight into the estate agent's next door and told a smart-looking young man what I was looking for.

Months later, Tio and I were still leafing, but increasingly half-heartedly, through estate agents' listings, finding that we were beginning to drop off their radar. I had forgotten about Streatham. But then one afternoon a call:

"It's Kevin at Bartley's. Something very like what you're looking for has just come onto our books". "Oh yes", I thought cynically, " Up which mountain?" But we arranged a viewing, and the flat was indeed exactly as I had specified. Edwardian architects had elected to line some Streatham streets with 'maisonettes' consisting of houses – apartments – on each of two floors. This ground floor house had not yet been formally advertised. Tio liked it not only because it was what we were looking for, but because it was very like an Australian house – on one level, with large rooms off a central hallway.

We were conducted, or should I say, shadowed, round by the obsessive owner, Brian. He worked for an outfit that arranged travel documents for executives who could afford to get their PAs to buy his company's service. He proudly pointed out even the most minor modification he had made to the rest of house: "You would not notice the electric points behind that door would you? I put them in to power my music centre. Would you like to look at it? Just over here." Pitying his wife, with more compulsive DIY in store wherever they moved to, and feeling that the claustrophobia would lift once Brian lifted off, we decided to make an offer.

The offer possibly remains part of Kevin of Bartley's CV statistics, but Brian and his wife never moved out. Brian did, but not his wife. Sometimes you can just tell, can't you?
Happily, Kevin had by now got the bit between his teeth. Another flat, just up the road, came on the market. It was the mirror image of the other, except that Kevin himself showed us round. When you entered, you had a beautiful view through the back of the house of trees festooned with Clematis Montana. In our relief we disregarded the fact that it had an identical apartment above, a very low false polyester ceiling in the hall, that it had a decrepit bathroom and kitchen, and had a flight of steps up to the front door. But I was sure we could get rid of those.
After we had moved in, it was of course not long before I could not imagine how I could have climbed the 3 flights of stairs at Craster Road.
Now we were in our new home, naturally I wanted to explore it all. It was a spacious apartment on just one level, as we wanted, but I couldn't resist the cellar. The house had been built on one side of a shallow valley. The cellar itself was low, so that you could only crawl beneath the front door, but on the other hand, walk with a stoop at the rear. I found a way into it below some floorboards in a storage cupboard. (The standard survey - provided on purchase - had said 'access not possible'). While Tio was out, I armed myself with a torch, removed the floorboards, and lowered myself down. The smell was of damp leaf mould. Clambering around, it became clear that the cellar had barely been touched since the house was built in Edwardian times, and I couldn't see how it could be much use now, even for storage.
Finding myself back in the cupboard, the lower half of my body still in the cellar, I decided that it was time to get out. If I could. My arms were just not strong enough to haul me up to a sitting position in the cupboard. I tried fruitlessly to kick some loose rubble into place to give me a higher platform. Should I wait till Tio got back – suppose she got killed in a bomb blast somewhere between Warren Street and Brixton? Or brain-injured and couldn't remember that we lived in Streatham? Would anyone hear me if I shouted? Would they just find a skeleton sandwiched beneath the stairs? I decided that I could not be defeated by what was, despite my myelin-light deteriorating condition (which naturally would be found, 'Silent Witness'-like on autopsy), a straightforward logistics problem.
I cast around for something that would help: a box or even an old ladder were bound to have been left somewhere down there. Nothing... but in one of the darkest recesses of this dungeon, I found a discarded milk crate and dragged it beneath the opening. Ape-like, dangling my hands down to my feet, I lifted one and then the other foot onto the crate, stood up, and climbed out. Somehow, I was disappointed at the anti-climax.
The fatigue I had first noticed in Malawi became more obvious once we had moved to Harborough Road. I could neither stand nor walk for long, even using a stick. The physio told me to contact the wheelchair service. As with all gleaming new toys, the wheelchair, when it arrived, invited me to try it out right away. There was a superb French delicatessen, run by an avuncular ex-sea captain, at the end of the Street. It would have been pain to walk it. I decided to ride there in my new wheelchair.
The pavement looked bumpy, so I launched into the street. It felt very comfortable not to be standing up, and I was encouraged by my first push. But soon I ran down the natural slope of the road into the gutter. Pushing myself back up the camber I found that I could make stately if hazardous progress along the centre of the road; but uh-oh: anything - maybe a road repair - could easily put me off-line and down I went back into the gutter on one side of the street or the other. I returned home exhausted, but with a bag full of croissants and with increased respect for those parathletes you see on televised track events.
It was around this time that I was given another salutary lesson in disability. I had naturally progressed from using one to two walking sticks, and was grateful for the extra balance provided and for the fact that many people gave me due consideration as a disabled person, but I had not physically realised exactly what this meant until I decided to post a letter. There were postboxes at each end of our street and so naturally, I selected the nearest and set out on foot. Subconsciously, I had always thought that I could walk to the end of the street. I now learned that I could not. I was shocked. Of course, I could easily get someone else to post the letters, but, like my first few weeks at GLAD, it was a rite of passage. Or rather, of no passage. With the diagnosis, and arriving as an apprentice in the disability field, I had recognised my disability conceptually, rationally and politically, but now I felt it physically, and that translated into another aspect of the concept: I began to feel it emotionally.
The wheelchair, however, was soon put to use, in particular for shopping and looking. By this time, shops had become a pain on foot. I no longer even tried to enter my favourite Shrubbery Row bric-a-brac antique shop. Streatham High Street clothes shops always used to tempt me in to look for shirts or jeans. Now, if I went in at all, I grabbed the nearest rail to hold onto and chose something nearby. After I had come home with fairly inappropriate garments (I remember a pair of tartan jeans that looked good enough in the shop) a couple of times, out of sympathy for my wife and friends, I stopped browsing. With the wheelchair, there was no problem. In fact, I developed a liking for shopping malls, previously shunned as downmarket. Picture galleries became a joy once more. The Turner Galleries at the Tate were revisited with an increased relish for the huge, spacious rooms combined with the depth of light and colour on canvas. I feel an almost euphoric sense of calm there, only matched by visits to concerts, which often take me back to sublime days in the fifth row of the second violins in the school orchestra.
Oddly, something that I previously regarded as an imposition became a pleasure. With alacrity I volunteered for supermarket shopping. I would load the wheelchair into the car, park in the wheelchair users' space at Sainsbury's, wheel to the entrance, attach a special trolley to myself and enjoy viewing the plethora of goods and shoppers on show. Of course, it was still a nuisance if they had moved the Loyd Grossman pasta sauces to a different aisle, but now I didn't mind going back. After all, I might find another delicacy on the way. Contrast that to my previous dismay on finding that I had to walk back the length of the store to find something. Smug or what?
I was reminded of one of the interviews I had done for London Disability News. I had gone to see one of the GLAD stalwarts, a woman who I was told was a veteran campaigner for accessible transport for disabled people. I was experienced enough by then not to concentrate too much on how or why she had become a wheelchair user. I asked her about her professional life, and found that she was a medic and in particular, a nutritionist. This intrigued me. How had she jumped from nutrition to transport? "It's simple really," she said. "I was working with disabled people, and their carers or the institutions in which they lived weren't getting them the food that they wanted or needed. Far better that they went to the shops and chose the food for themselves. Getting about would give them some independence too."
I could see what was coming. "So they needed transport to the get them there." This redoubtable woman had therefore campaigned in the LCC, GLC, and anywhere else she could for accessible transport. I had already reported on the campaign for LDN. It had now taken the form of direct action in which disabled people, in wheelchairs or not, positioned themselves in front of the inaccessible buses. Of course, it was not difficult in London traffic jams to do this. Sometimes they chained themselves to the vehicles to make the point. The direct action movement mushroomed from there. It took me back to my days as a student 'revolutionary'. Now, as a journalist within the disability movement, it gave me some satisfaction to be part of it.
The manually-operated wheelchair design, which hasn't changed much over the last century, is still very useful to me on flat surfaces, that is, or in places that my power-chair cannot penetrate because of steps or stairs. But my manually-powered attempt to reach the end of Harborough Road had been a real 'Mrs Armitage' moment. With Lewis I had been reading Quentin Blake's stories about Mrs Armitage. In them she pragmatically keeps adding equipment to, say, a bicycle -- with the words "What this bicycle needs is: a seat for my dog" (when the dog tires of following); "a sail" (when she gets tired of pedalling) and so forth. Once getting around, even in the house, became a problem, I told myself "What someone in my situation needs, is something along the lines of the powerchair I used to see in use by my colleague, Brenda, as she defiantly sped to work through Brixton."
As I describe elsewhere, the employment service fortuitously provided the answer: part payment for a ramp at the entrance to the house, and a power-chair that I could use for work, including getting to the post box, which, happily again, was right outside the French delicatessen. I'm not sure whether the pastries I purchased there were exactly what my Department of Employment assessor had in mind, but they certainly did my morale a power of good. Soon after the new powerchair was delivered, intoxicated with its manoeuvrability, and bypassing my new ramp, I unintentionally drove it backwards down the flight of steps beside. Happily I picked myself up, dusted myself off, and started all over again.
Pleased with my new-found mobility, I invited a friend to go out with me to a local Indian restaurant. Not yet depending entirely on the powerchair to move around, I decided to leave it outside and walk in with my sticks. I was soon given a negative lesson in my generally trusting attitude towards the citizens of Streatham. My dinner companion glanced out of the window and saw somebody making off with the powerchair! Luckily, the thief was a prejudiced type, and clearly did not care to be seen using the powerchair himself. And so he was trying to drive it by walking alongside. Not an easy task. My friend Liz caught up with him and remonstrated. He claimed that he thought that it had been abandoned, and that it would be very useful for his little boy to roll around in.
It is surprising what a difference a couple of miles makes. Or maybe, it was the difference of a couple of years. Streatham was a lot more congested than Brixton Hill, from whence we had moved. For one thing, parking was a lot more difficult. Soon, we decided we needed a disabled person's parking bay outside the house. This of course did not stop the occasional driver using it ("I thought if I just left it here, while I took my dog for a walk. I couldn't see any disabled people about"). Neither did it stop traffic wardens boosting their daily toll by affixing parking tickets, while if they had only just walked round the car, they would have found my orange parking badge.
While I could still use sticks to walk a few paces, I used to nip up to the chemists on the High Street and park in a dedicated bay while I was in the shop. When I got there one time, there was an obvious imposter in the bay. I circled around a couple of times, building up a head of steam, and then backed into the bay as he was leaving. Injudiciously, I wound down my window and told him to "Fuck off". He was still there, double parked in his darkened-windowed BMW, when I left the chemist. I cursed myself for aggravating this weasely fascist, but hobbled to my car nevertheless and started off, trying to ignore him.
The bastard followed me. He kept very close. I knew the streets round the chemist very well, though. So I took a left when I could and weaved through them. He stayed right behind. Next, I took him fast over some speed-bumps, reckoning that he would value the chassis of his BMW more than I would be bothered about my car. I glanced in the mirror. He was still there, clearly enjoying himself. I noted his number and thought of making an emergency stop, and claiming against him on the insurance when he crashed into me. But then I noticed a street with a no-entry sign on my right. The next time round our circuit, I abruptly turned right the wrong way up the one-way street. I waited for a while a little way up the street and then turned back. The enemy had disappeared. I half expected him to be blocking my parking bay when I got home but it was clear, and I congratulated myself on a more exciting and unusual visit to the shops, over a steadying cup of tea.
The only other time I succumbed to a form of road rage and likewise told my opponent to get lost was also in Streatham. My disabled person's parking badge entitles me to park on double yellow lines, which I did, in a quiet street one day when on a visit to the picture framers. Barely 20 minutes later I returned to find a parking official proudly sticking a ticket under my wiper. The orange badge was visible in front of his ferret-like nose.
I waved a stick.
"Do you realise I have an orange badge?" I said, trying to control my anger.
"Yeah, you can't park here. It's double yeller".
"My badge entitles me to park on double-yellow lines," I said, and got out the badge to show him.
He had a brief look. "You're parking like an arsehole", he concluded, and strode off. As he did so I responded with a resounding "Fuck Off!", but somehow that did not seem to have done the incident justice. Accordingly, when the parking authority's demand for £40.00 arrived in the post, I responded with an appeal and took a camera down to the crime scene. Initially, it was disquieting to find yellow triple-stripe loading restrictions painted on the kerb, which would have destroyed my case. On closer examination, however, I found the stripes mostly worn away and an accompanying notice bent, rusted and indecipherable
A few weeks later I presented myself, photos in hand to Camberwell Green Magistrates Court. The corridors and waiting areas, with their huddles of families, people anxiously muttering to lawyers, and others sitting on their own, wearing their poverty in their expressions as well as in their clothing, reminded me of my humanity: with the honourable exception, of course, that while these citizens appeared to me to be unfortunate and guilt-ridden, I of course felt uniquely fortunate to be unjustly accused and innocent of wrong-doing. It was not long before an official informed me that the chief witness for the prosecution, the traffic warden, had not shown up. The case was rescheduled for a later date, on which I duly appeared, and was ushered into court. The surprisingly youthful magistrate peered over his glasses and immediately ordered me to sit down:
"Mr Lewis: I can see that you have had considerable difficulty in travelling here".
"Twice", I thought to myself.
"The prosecution has failed twice to produce its witness", he confirmed, "and so we will not trouble you further. Case dismissed."
I felt elated to have won the case, but thwarted in my need for stardom in 'The Case of the Wrongly-Accused Cripple'. It was more a case of 'The Weasel that Went to Ground'.
These incidents with the Streatham weasels brought home the pros and cons of moving up the hill from Brixton. One day I had parked (perfectly legally) on a single yellow line in Coldharbour Lane in the centre of Brixton. Parked behind me (probably illegally) was a shiny new dark-windowed BMW. I touched the bumper of this car with mine. Immediately a huge Afro-Caribbean man leaped out of a nearby shop and remonstrated threateningly: "Did you just hit my car?". I struggled out to have a look in case there might have been a tiny scratch. "You out of your head?" said the man accusingly, as I straightened up, observing that there was no mark on his car. I got his drift: naturally, he assumed I was either drunk or drugged. Tio brought me my stick, and I replied: "No, I'm disabled". There was an instant transformation in the man who I in my prejudiced way categorised as a drug dealer ("but it's a natural and not necessarily derogatory conclusion that prosperous-looking BMW drivers in Brixton are part of one of its main industries", I told myself after the incident). He apologised, was concerned that I was all right, and offered to move his car.
Driving, Creaking
After this, my driving days were numbered. For a few years, I carried on: I discovered that I could take my powerchair with me to extend my range. There are any number of companies set up by individuals combining engineering skills and generosity who have 'a unique and the very best answer' to the problem of providing mobility for disabled people. A rotund specialist in aluminium ramps had arrived at the house with two aluminium channels, which enabled me to propel my powerchair into the back of our station wagon – without, of course, its passenger. Here again, there are lots of companies converting cars to transport a wheelchair with its passenger still on board. But few which make it easy for a passenger to leave their wheelchair and sit beside the driver (I could still walk around the back of the car and sit in the passenger seat).
Designers are still trapped inside the phrase, 'confined to a wheelchair.' Wheelchair users are not trapped in their wheelchairs; most of us sleep on a bed at night; we can very often walk a few paces, and while we can, take a seat just like anyone else. The wheelchair just extends our range and makes life a lot easier. The collapsible ramps squeaked and grated wherever we went, but we got used to encasing them in old sheets and taking the powerchair with us. Eventually, it became exhausting for me, and boring for Tio, to cart the creaking ramp about. She travelled to a roadshow and found someone demonstrating a hoist which made life a lot easier for us both.
Once we had moved up the hill from Brixton, we had the hallway ceiling pulled down to reveal a splendidly proportioned architrave; the bathroom replaced with a pretty wet room, in which my son still remembers the three of us showering together; and the kitchen rebuilt by a very clever carpenter. Peter announced himself as he came through the door with a gust of cannabis and a 12-bore-sized power saw. He drank prodigious quantities of our green tea and announced that he was training as a yoga teacher. In fact, he gave me some tuition in meditation (I tried, but I find painting and drawing a better therapy). I used one of the two front rooms as an office for my new business, brilliantly named by Michael, Ready Willing and Able.
Harborough Road is, in its diversity of inhabitants, probably quite similar to many South London streets, but as a Streatham street it is quite unique. In contrast with many of the area's rather lengthy residential streets, often lined with cramped-looking 'maisonettes' of indeterminate age, it is a short, quite clearly Edwardian, street of large two-apartment-houses. (The possibility of fusing the two floors was built in, presumably keeping in mind accommodation for the servants: then, unfortunately for the architects, going out of fashion with the London middle classes). A 1910 picture, taken soon after the street was built, shows the pavements neatly planted to give the effect of an avenue. Those saplings are now vast plane trees which have undermined a number of the houses; meanwhile they give a pleasant leafy feel to the road. A pretty, copper-towered primary school had been built at the same time at the end of the street. By the time, though, that we had lived there for a few years and produced a school-age child, it was beginning to look like its place in the league tables: sorry for itself; despite the fact that it would have been really convenient for Lewis to trip along there - and for me to take him; despite Tio having developed a plan to upgrade the school in league with other local parents, and despite a fascinating and very pretty regular springtime fox-cub track over our fences and through our garden, the call of a countryside community and village school, not to mention the support of my sister, was eventually too strong for us.
In his pre-school years, though, I enjoyed playing with Lewis. I would have loved to romp around with him; in the early days it was possible from a sitting position: Lewis would collaborate in the pretence that I didn't know he was crawling behind the sofa, and scare me with a roar from somewhere he imagined I couldn't have known that he occupied.
The battle by disabled people for independent living was at that time bearing the new fruit of direct payments of social security benefits to individuals to pay for personal assistance. I applied for payments so that I could play my full fathering role. The local council, Lambeth, had not been as quick off the mark as some. They turned me down. So we stuck a notice in the local Sainsbury's and instantly found an energetic young Polish woman, in the UK to study English and microbiology in the days before the EU East European influx. It was lucky both for me and Lewis that we could pay for her help. She accompanied us along bumpy pavements to the local common to fly a kite and kick a ball. Back at home, while Lewis and I were struggling with a painting session, she didn't stop: she found ways to help Tio with the housework.
The cosmopolitan feel of Harborough Road was surprising, and pleasing to me. I had imagined Streatham to be full of suburbanites polishing cars, or at least of inhabitants quietly aspiring to live near a golf course. Mind you we were not altogether surprised to have a prostitute living three doors down from us. By then, Streatham had a seamy reputation, encouraged by the exploits of the celebrated Cynthia Payne (Madam Syn to her clients). On the corners of the well-to-do streets on what the estate agents sometimes called the 'Clapham' (dropping the ph to make it sound really classy: a Germanic 'Claam') side of the High Street, groups of bare-legged girls shivered, chattered and stood in line waiting for the next smoky-windowed punter to crawl along. Our neighbour from two doors down, a portly middle-aged figure, would bravely step out in her finery as it was getting dark, never acknowledging even a "good evening" wish as I sped down our ramp on my way to the Delli..
Being disabled happily made it quite easy to meet the people of Harborough Road. Borne along by my powerchair, comparatively young, handsome and attractively dressed (at least that was how I thought of myself) no one, once they had seen me around the place, regarded me as a threat. Maybe the man in the wheelchair performed the function of a confessional. I could pass the day with the beautiful young admin assistant from number 24 and sympathise with her as she bemoaned her husband's absence on yet another motor cycling weekend: she fell pregnant at the same time as Tio and ended up in the next bed in the St Thomas's Labour ward; or chat about his marital problems to the chubby, jovial, but unfailingly boring man on the other side of the street as he came out to exercise his redeeming feature: his two beautiful brown labradors.
Unfortunately, down that end of the street, lurked Brian, who was quite capable of boring the pants off anyone. He was even capable of making the Enron crisis, in which a number of executives were suspected of serious malfeasance, uninteresting by associating himself with the importance of such a large corporation of which nobody outside the stock exchange had ever heard until then. The Irish Catholic teachers next door were a solid source of support to us in our own domestic trials, and of gossip about our upstairs neighbour, who never failed to come to the window ogling when Rosie was bending over doing the gardening. Occasionally I would chat to the computer expert from over the road, a big Caribbean man who in a carefree way unplugged and carried off my seized-up Imac as if it wasn't a delicate and largely incomprehensible electronic machine, or one or other of the actors, who lived on either side of the street and gave it a very welcome bohemian feel.
I was happy. It was the happiest time of my life. How could that be? I was losing mobility, and then losing control of my bladder. But I had become mature enough to enjoy life – all of it, and particularly my growing child and my very grown-up and beautiful wife – and not imagine that I should be doing something else. I could not play tennis, but I enjoyed the new challenges that the swimming baths represented. Using wheels I could get most places. I delighted in some very simple things.
Something I enjoyed when Lewis was little, was going out on my power chair with him on my knee, onto the road, finding a patch of pavement in the sun, not shaded by other houses, and together watching the world go by. My work producing the recruitment bulletin was challenging, and I was exploring new arenas in the medical and social services, finding ingenious ways of keeping my bodily functions in check.
One benefit that disability has brought me has been meeting people who take an interest in me. Not mind you, at parties, where you tend to meet their bottoms, although that has its enjoyable aspects too. I clearly don't represent a threat, although in some situations people panic when they see somebody getting around on wheels rather than legs: perhaps this is frightening – "Never come across one of the poor creatures before; maybe I'd do the wrong thing. Ignore!"
Oxfordshire
When I eventually came to live in a village, the social effect was magnified. I get most places round the village, and people know me. I forget most of their names, but they don't seem to mind. There aren't many shops. The DIY shop is the central information hub of the village, even more so than the library. Some of the smaller shops are taking their time to become accessible, but I'm sure they will eventually.
On this score, the local post office was remarkably lackadaisical. When we first arrived in the village, and I wanted some stamps, I found that I could not get in. The postmaster told me that he was creating a ramp so that I could. Every time I appeared on the doorstep he or his wife came out to tell me that the planning permission was on the way. But five years later, it had not appeared. Whole houses, including a minor stately home, have been built in the neighbourhood during that time, let alone a humble ramp. So I got the Equality Commission, which then became the Human Rights and Equality Commission, involved. Why hadn't I done it before? A simple letter mentioning the name of the semi-judicial body brought forth the required ramp. I discovered that the admittedly cramped Post Office interior contains a highly useful display of stationery. There was the added bonus that I no longer had to bribe my son to join the queue for me, with the promised purchase of sweets.
I had often thought that I might be happy living in the country – sometime - but we started to look for a house (and why not in the village where my younger sister and nonagenarian mother lived?) when we wanted to find a school that Lewis could walk to without contending with London traffic, and to find somewhere where Tio could get support.
By this time I had been hospitalized twice – once with the broken leg, and once with pneumonia. Also, when I get sick with a bad cold, the condition seems to exacerbate my loss of mobility: I suppose nerves go into hibernation, so that I need nursing. Fortunately I very seldom get a cold. These episodes, however, are frightening: in a panic, I always wonder if I am going to stay completely paralysed. But I know now that I will recover. There is just the residual memory that this is how I am likely to end up. The present moment, and the euphoria of the recovery process are much more attractive. This is how I felt up to the period in which we moved. M, being of a more cautious disposition, and with the immediate perspective of Lewis's schooling, put the process in motion.
Looking for a new home was fun. We drove down to the village when there were a few possible houses to look at, and got to know all types of housing in the village. With my previous experience of buying old houses and doing them up, this was my instinct. In fact, we put in offers on two fairly ancient houses: on the first, the sale was withdrawn and no sooner had we put in the offer on the second that a friend told us that she was applying for planning permission to build a house in the grounds of her own house near my sister's. It was a beguiling prospect to build an accessible house to our own design, but eventually it became clear that the process would not be completed, let alone the house built, by the time Lewis was of an age to go to school. And so we started again. A house became available on a small new estate built on land vacated by demolishing an old printing factory. We already knew the estate: 12 large houses of reconstituted stone, but we had been put off by a house containing a shell-suited woman with soft pink furnishings straight out of DFS. "People have barbecues over the summer, you know. You will be invited: mostly accountants, and that kind of people you know"
A young woman from the estate agents let us in to this new one. As in all houses built up to that date, the threshold was unreasonably high. I just about climbed up into the house. It was roomy enough to get around in a wheelchair. Up a straight flight of stairs (easy enough to install a Stannah) we found four bedrooms, one with en-suite shower, and a bathroom. "The best view is from this room", said the smart young woman. Open fields. That settled it for me.
Freedom, Novelty, and Frustration
The house had enough space to move around, and once we had installed a sit-you-up bed, the view was revealed in all its spring glory. Lewis loved the stair lift and continued for ages to operate it from my knee. The lift was also useful for baggage when we were going away. The downside of the new house was that I could never find anything. Coinciding with my increasing need for a wheelchair, nothing was in what I considered to be its proper place. Since the said proper places were 60 miles up the motorway in South London, that is not surprising. But I became a grumpy old man, imagining that Tio or Lewis had hidden the kitchen scissors or my stock of envelopes. Mind you, they often did. Carrying things off from where they found them was just as bad. Wasn't it? I have learned to devise places for things I need to find.
But the slow pace of village life suited my own. I joined the History Group and the Art Class. They were run in the primary school hall and cricket pavilion respectively. It is cold getting to the History Group on winter evenings, and it takes me an inordinately long time to get ready, but I get there. I ride round to my sister Kate's, observing the seasonal changes along the road and in her beautiful garden, up a ramp into a glass room housing the swimming pool, and plunge in. Well eventually I plunge. It takes me at least 15 minutes to get undressed and get in. Kate installed staircase-style steps with banisters in place of the poolside ladder, so that I could get hold of the parallel bars at the top of the steps and take my time immersing myself in the pleasantly warm water. Once the steps became potentially dangerous, we installed an electric hoist with which I can use a remote control to deposit me in the pool and pick me up after my version of having a swim.
My physios and consultants are impressed when I tell them about it. I have to thank my sister Kate and her husband Philip, who built the pool and heat it, for keeping me going. After I've finished my five lengths each way up and down the pool and my stretches and walk, it takes me at least as long to get dry and dressed again. Kate usually helps me with my socks and shoes. I could do it myself, but given that I would have done it once already getting up in the morning, this gesture gives me almost as much a confidence boost as the swim.
As I have become less and less able to walk (one stick, two sticks, indoor walker, walker with brakes firmly locked on, so that for all the world, it performs the same function as a Zimmer frame), and now almost wholly dependent on a wheelchair, I have become reliant on swimming for exercise. I can't say I'm as addicted as those insane treadmill enthusiasts who watch the TV while they tread the boards at the gym, but I have an easy check on my fitness: it has declined if my feet touch the bottom before I reach the end of the pool, or if I found it more difficult to get dressed when I get out. But most of the time, paddling along on my back, I can monitor the progress of the flowers growing beside me and the birds scuttling along the roof above me, and forget about everything else.
I swim three times a week. Kate leaves her kitchen or garden to chat while I'm getting changed, and Tio and Lewis often join me on Sundays. I enjoy this as much for the contact with them as anything. We sometimes have races, giving me a good start of course, or play pig-in-the-middle catching games. (I have had to learn to throw left-handed. Despite my best efforts to retrain the right-hand, it seems to have succumbed to a combination of tennis elbow, frozen shoulder, and MS.) The game I enjoy most is "Ring- a-ring-of roses, a pocket full of posies, a-tishoo, a-tishoo, we all jump UP!" I don't get very far off the ground, but Lewis always demands a "Hug all together" after that. On Thursdays, I join Barbara and Mary's exercise programme. Both are middle-aged (I always think of people my age as significantly older than me), and Barbara had a knee problem which required sorting out. Now she's had the op, she keeps going at a stately pace, three times a week without fail, unless that is, her arthritic, DIY-addicted husband Eric injures himself with his chainsaw making a special box for his screws, in which case she pays a special visit with him to the hospital A&E department. I gather all this information mid-stroke as we do our lengths. I also get to know the two women's gossip about how to perform cross-stitch, grow onions, stop the neighbours getting too nosy, or which stalls to visit at the Moreton-in-Marsh market. Barbara, a gruff, no-nonsense woman, thinks nothing of giving my underwear a tug for me should I get my knickers in a twist. And she is very welcome. Lucky man, Eric.
Living in her own little flat in Kate's house, until recently, was my centenarian mother. At the end of the 1970s, my industrialist father had decided to retire and abandon my mother. "I'm afraid I couldn't stand the idea of spending all my time with her, dear," he told Kate. He lost no time in joining a dating agency, finding a new partner and putting his wife's pride and joy, their extensive Cotswolds home, on the market.
Mother was rescued by Kate, who found her a house in Oxfordshire. She and her husband, Philip, who amongst many other accomplishments is a skilled removals man, collected her and a good proportion of the contents of the matrimonial home and installed her in the village that we have come to call home. This move, together with the separation from her husband, had effected great changes in her. From lonely, crazed Lady of the Manor, who aspired to the grand families of the Gloucestershire aristocracy, she became a much more human citizen of the village. Mind you, she retained both the self-absorption and the distrust of other women engendered by her terrible relationship with her husband, and for all I know, jealousy of her younger sister, Betty. As she aged and lost faculties she moved into the flat specially installed for her by the talented Philip in a new house he had built in the same village, and then into a nursing home.
Before that latest move, I used to enjoy sitting and chatting with her, watching the shadow of the acacias moving across Kate's garden. Coincidentally, I think it helped my sister by fulfilling that element of care. Into her 101st year, my mother could still outpace me. She would walk out onto the lawn to feed the birds. She paced around the house, sometimes worrying Kate and Philip by doing so in the middle of the night. Although I had become quite deft at manoeuvring my powerchair to keep up, I found it disconcerting, just as I'm sure Tio did, that like my mother I needed an apron at dinner to avoid dropping food all over myself, and to have similar trouble controlling my bladder and bowels. It was hard to be categorised with someone so much more elderly, I know Tio felt that: she already had had an infant to deal with displaying the same characteristics. Of course I felt guilty: I could taste ageism souring my milk of human kindness, but I still felt humiliated. The fact is that progressive MS is very much like a speeded up ageing process.
Naturally enough I also joined the local MS Society. It is not actually all that natural: I have an aversion to do-gooders. While I was at GLAD I is subscribed to the disability movement's slogan "Piss on pity" and refused to join the South London branch of the MS Society, as all its members (often the nondisabled ones) seemed to do was to organise trips to the coast and fund-raising activities for research into a cure for MS. But the West Oxfordshire branch organised functions which enabled its members to talk to each other and compare survival notes and stories. I have made some good friends in the branch, including a couple who both have MS, and who met through their local MS branch. Through the branch, Tio wanted to meet other partners of people with MS. As I hope I have implied through this memoir, having a partner progressively afflicted by the condition must be horrifying for her. It has led to many couples splitting asunder -- quite a few immediately after diagnosis! It seems to have taken all her loyalty and generosity to stay with me. And so in her own uniquely logistical way, she got the names of some local couples. What she found was quite horrifying. The partners of the local people with MS whom she visited had turned themselves into "carers", and refused to allow the "cared-for" a single element of independence, preferring to do almost everything for them. The two partners she visited had created a symbiotic master-servant relationship between themselves and the persons they "cared for" which looked very like imprisonment. She came home looking very shocked. I felt very grateful for the bias towards self-determination that I had acquired it in the 1960s, reinforced by my disability education at GLAD in the 1990s.
Tio joined a village yoga group and together with a neighbour rediscovered an old enthusiasm: netball. Although she would deny it, Tio has a talent for logistics: getting things organised; an invaluable skill when disaster zone tents or blankets were needed by her previous employer, Red Cross International Aid. Jessica, a neighbour and physically enthusiastic physiotherapist, used to play anyway at her posh public school. And so they have formed a successful 'ladies' netball team.
14. Growing up
Lewis always enjoyed riding with me on my power chair – as did my granddaughter when she was little. In fact, at the age of seven, he still liked, slow as it was, descending on my knee from the first floor on my stair lift, using the excuse that the cat scared him. It's true that our black cat Liquorice did skulk around, materialising from nowhere in anyone's path to remind us he was starving, but in Lewis' seven years, the cat had hardly raised a paw in anger. This was despite being chased in mock game hunts by Lewis and his friends. The other day Lewis changed his tune. Endearingly, and truthfully too, as we sat together watching his Gerbils chew up yet more cardboard he said, "We like doing things slowly, don't we Dad?". I agreed. Nevertheless he seems to enjoy playing pinball on his playstation with me, crazy kid. Naturally, with electronic gadgets, he's incredibly fast and I'm ponderously slow.
When she's not working short days from home, Tio spends two days working in London for UCL, staying overnight with her sister. I appreciated her confidence in me to do the school run and keep house while she was away. Left to my own devices, I can do quite complicated things like helping Lewis decide which gang of eight-year-old boys in his class to join. My advice was, "Both". On my days and nights child-minding, Lewis did not mind at all if I took ages in the bathroom and another a long time to get dressed. He regarded that as natural, which it is. His toys do however cause me a problem, especially balloons. They somehow contrive to get under my wheels and burst. This would not matter: I can handle Lewis's grief at the loss of one balloon, but his mother, when she's present, cannot stand loud noises and always accompanies them with a bloodcurdling shriek. Our neighbours often look surprised when she emerges from the house unscathed. Lewis's empire has moved from processions of dinosaurs, to battalions of soldiers, to fleets of toy cars all congesting traffic in the dining area. As much as I try to thread through them with my power chair, he seems to accept the prehistoric law of the jungle, or field casualties, or our version of The Scrap Heap Challenge. Now he enjoys eliminating opponents in computer games.
Another case in point is cricket. We used to play on the ashfalt in front of our garage. I usually opted to 'bowl': I can only chuck the ball left-handed in the general direction of the batsman and he tries his hardest to hit it. He scores runs and is happy to win. If I do get to bat, Lewis congratulates me heartily if I manage to connect with the ball at all. It gets more complicated if the girls from next door and their mother join in. At least we have more fielders, but Lewis reckons it is his god-given right to win the match. I get the awful feeling that he might go in for politics.
We liked to read Lewis a story before he went to sleep. I used to sit by his bed, and read a chapter of Postman Pat or Winnie the Pooh. Then I closed the eye nearest him and watched with the other eye until he fell asleep. It became difficult to stand up, but I held onto the upper bunks and found something, usually the doorframe, to grab to get out of his room and into mine, which was just round the corner. This became quite hard, and so usually I read to him from my regal position sitting bolt upright in my bed . Or maybe his aunt comes and reads him his story.
But then one night, out of the blue - or maybe it was because I had bought him The Dangerous Book for Boys - he said, "Dad. You remember, when you used to sit by my bed and read me a story or listen to a tape and stay with me until I went to sleep? Why don't we do that again?" I told him that I would need a cushion on the chair by his bed. "Well, that's easy. I'll get one from the bunk above me." I surprised myself: from the stair-lift I staggered into his room and sat next to him. I read to him about why the Australians have summer while we have winter and the other way round (he enjoys science), then listened to the Secret Seven and crept out - well, actually, heaved myself up on a table and staggered out, glancing for old times sake at my prep school rugby team photo (I was a centre back) I had hung beside the bed. He was asleep by then.
It is difficult to convince anyone that I would prefer to unload and load the dishwasher, even if it would take me an hour to achieve what they could in 10 minutes. Besides my writing and painting, there are some things that I do that give me considerable satisfaction. We had two chickens in a pen in the back garden. Their droppings tray, below the coop where they perch at night, was just the right level for me to draw up alongside, slide it out and carry it over to empty it into the compost bin. Of course, I loved to collect the eggs, but so too did Lewis and his friends. I left it to them.
Generally, though, I enjoy what challenges everyday life sets me. Pivoting on a rail, I use my legs as a lever to get out of bed. … Hurray! I'm sitting on the edge of the bed. Getting dressed: someone has invented yet another ingenious way for us cripples to don our socks - a flat, heart-shaped plastic frisbee. The instructions say it's to assist ladies to pull up their stockings, but: Hey it works! I'm past gender niceties. So you can't reach that yogurt on the second top shelf of the fridge? Put there so that Lewis (and I) can't get at it? Just watch me! If I get alongside, I can poke a finger up against the carton through the bottom of that shelf, slide it forward, and … yes, it falls into my lap.
Feelings
I was lying on the bed wanting to reach over and put an arm around Tio. I couldn't. From where I was it would have been difficult, but I sensed that she anyway wasn't in the mood for my manoeuvres. Perhaps that symbolised my own frame of mind. I'm a physical, sexual being, but yet I could not get near her. "I feel as if I'm leaving you", I said. Literally, it was true. Since the time we were together at Craster Road, whole tranches of me had gone absent without leave.
Besides the difficulty of moving about the house or the bed, I could measure my mobility fairly easily now, because I was swimming regularly. The fact was my mobility had declined.
My -- our great sexual triumph had been the conception of Lewis. Naturally, immediately after Lewis was born, Tio was busy and tired, new mothers don't want to leap back in to intimacy; it's in the chemicals I'm told.
I was able to contain myself in honour of the mother and baby. But in the next six years, for one reason and another, much to do with the demands of parenthood on Tio , and of course the demands of my MS on both of us, sexual contact between us dwindled into the buffers, while I became less and less agile. We loved each other but the relationship shifted.
There were hugs between us when we swam together, as often Lewis would suggest it! But even so, it was time for me to seek a little help and I went back to counselling. It was arranged through the excellent Enablement Centre at the Nuffield Orthopaedic Centre in Oxford. In hindsight, it wasn't the best idea for Tio , given that it was intertwined with my disability. Months after the course was finished (mine took many months longer than hers), I felt that Tio might still be angry and that there were still issues to be resolved around my disability, and the age gap between us. I suppose it is true that while the age gap does not vary, the degree of disability does. And beside the ponderous nature of every movement and the increasing frequency of visits to the toilet, the gradual onset of fatigue as the day wears on makes me seem even older than I am already. I understood her anger, even if I still longed to be close to her to give, and receive more affection
I felt at home at the Enablement Centre. For a start, they arranged transport for me, which meant that I was not dependant upon Tio. The paramedics who drove the minibus were very used to disabled people and so were invariably chatty. Of course, I was worried about meeting my counsellor. I spotted Linda Belcombe striding purposefully across the reception area even before she saw me. She, like her consulting room, was neat, neutral, decidedly not sexy but decidedly not clinical. She ushered me into the room. She was thirty-maybe-forty-something. She sat down, crossed her legs, and said nothing. After a long pause, I worked out that she expected me to say something. I felt I should tell her why I had come to see her. So I told her about 'feeling I was leaving my wife' and a lot of what I have written here.
What was troubling me at that moment was the new en suite ground floor bedroom we were having built as an extension to our house. At first the plan, my plan, had been that it should be used as a flat to rent out for a few years. In the back of my mind I didn't want to think that it might be Tio's very practical and efficient plan to provide me with an accessible bathroom and bedroom for a time in the future.
Soon though, I was hospitalised with a stomach bug. Afterwards, Tio bravely told me that she thought I should move into the extension once it was ready. On my own. Of course, I was upset, but once she told me she felt that it might improve things, I agreed. But for me, it marked the end of my proximity to her and it left me feeling very depressed.
Once I had told Linda this sorry story, and she had seen how much it had ebbed my confidence, she asked me:
"Have you told Tio how disappointed you are, given that to rent out the extension temporarily was your own idea, that it didn't work out? You didn't tell her how you felt. You never tell her how you feel, do you?"
Well, I did occasionally tell Tio how I was feeling: for instance, if I was feeling tired. But even then, she usually spotted the fatigue first. And I admitted ruefully that I very seldom told her if I was feeling rejected, or angry, or even dismayed.
This became a recurrent theme of my therapy. I would tell Linda that I was feeling like this; she would ask me if I had told Tio and I would reply that I hadn't.
She probed this lack of assertiveness. In one session, we went right back to my school days at Rugby School. One of the senior boys, for whom I was meant to be fagging (in other words, being a personal servant) put me at number 1. on his list of desirable boyfriends. I was unimpressed.
"You won't take your trousers down for me", he said, "and you are a lousy fag. You're a dead loss". I was saddled with the epithet, "Dead Loss" for a long time after this. It hurt, but I pretended it didn't. I found friends from other houses, who did not call me that and who had interests other than those of the boys in my house, interests in topics such as German expressionist films with exotic names like 'The Cabinet of Dr. Caligari'.
"Good grief, psychotherapy works!", I thought after I had dredged up this unpleasant memory: actually, I realised it had accompanied me through my life after school thus far. Linda remarked that this way of dealing with bullying could be the reason for my 'easy-going' attitude to rejection, or to things that I interpreted as rejection (or generally to reverses in life). She had already noticed, and registered her surprise, that I took a 'philosophical' attitude to what in my view was a stupid policy of the hospital transport service which conveyed me to the excellent Enablement Centre where she worked.
Despite the fact that the local accessible bus and taxi services operated a 'ride on ride off' policy towards the various forms of powerchair increasingly used by disabled people, the universally cheery paramedics who ran the scheme were under instruction for safety reasons only to take manual wheelchairs. It seemed like they would only take a disabled passenger who looked the part: confined' to a contraption that emphasized their incapacity, and that they could shunt around like goods in their wagons. I suppose that in the market-driven NHS we were the goods, in other words, the commodities. So: why didn't I kick up a fuss?
I determined to assert myself, and even work through the Assertiveness Workbook that she recommended (I always felt, arrogantly, that I would know what counselling books might prescribe). At the same time I was reminded of a mantra, among others such as 'Piss on pity!' and 'We're here, get used to it!', of the disability civil rights movement, which I had wholeheartedly supported while I was involved: 'We are often regarded a burden on society.' (an attitude epitomised by the fascist phrase 'useless eaters', itself uncomfortably close to the phrase 'dead loss') 'We are not!' I had always been militant on political issues: but clearly not on personal ones. Unwittingly, in my private life I had joined the 'Mustn't Grumble' brigade. Thinking back, I had probably been a member for quite some time.
In the next session I returned to the personal issue that exercised me most: "I think I read somewhere that men of a certain age need sex more than women do. This may or may not be true, but anyway every week or so, the hormones start racing around my body. For all I know, the same thing applies to women, and perhaps to my dear wife. Of course, I can gratify myself, but company is better
The conversation seemed to me to have come full circle. After my long, almost tearful, pause she continued, "One of my colleagues is very creative in her sexual advice: that might help ".
"We have talked about that but no", I replied, remembering that we had already had some counselling together.
"I suppose, any company, but particularly the company of the woman who I love, would be welcome. I'm not sure how she feels about me at the moment, and that makes me unhappy because I love her. Of course I love sharing a bedroom with her."
I knew what was coming: "Have you told her this?"
I shrugged, "I think she knows it. But yes, I should have told her."
Linda, suppressing, I think, a note of impatience, suggested, "How about meeting up once a week to talk about how you both feel? One of you could start it off each time and would have the right not to be interrupted. Remember to say how you feel, rather than accuse her of anything."
We did this and it worked! We were talking about what was making us unhappy and that was making us happier! We offloaded to each other and our various issues were aired. Mine were that I felt stuck in the corner sometimes, and talked about in an all too practical way, about my disability and power chair. Hers were various and understandable, Yes it is a pity that I am fifteen and a half years older than her and perhaps she felt that she was missing what her peer group might be doing at this stage of their lives. Energetic things, I think she meant: courting, dancing, happiness, new life ventures, running after the object of their desires.
But what came to my mind about our different peer groups is both yes, courting and pursuit of sex, (and is the desire for sex ever off my mind for long - I suppose I conform to at least that aspect of the feminist view of the male?), but also, splitting up, divorcing, illness, unhappiness – the whole array and at every stage of the life cycle. Again it wasn't as if she hadn't been aware of the age gap when we started out. I was born in 1944. She was born 15.5 years after me in Toowoomba. World War Two was well and truly over, it was 1960, forChrist's sake: Robert Menzies was still Australian Prime Minister, and Harold Holt had yet to take his ill-fated dip off the Victoria coast. Amongst our friends of her age, however there is the full range of happiness, creativity, unhappiness, unfaithfulness, cancer, illness and death.
However, it depresses me to know that every time I take a piece out of a door frame in the house that we have come to love, or that each time I have to be rescued from a fall, that it must be traumatic for Tio -
a shock, but it is also a loss. It grinds in a shocking reality: where once I walked and ran freely around, and then walked with one and next two sticks; now I can't walk at all. The only time that I am upright is when I plug in my powerchair to charge overnight. I used to push my walker to the bed or to the bathroom. It is symptomatic of this account that I have now had to give up any walking at all.
It'sa
Actually, that's not quite true. When I go swimming, I do a length walking in the water unaided. Lewis was astonished when he first saw this miraculous event.
At home, though, I sometimes end up spreadeagled over the floor like a dead dog on the road. I have to call on my sister Kate's immensely strong husband Philip to scrape me up.
This is how I imagine she feels
Her husband breaks a leg, loses gallons of blood, and is carted off to hospital. She's suddenly plunged into single-parenthood.
He doesn't just get colds or infections, he's paralysed by them, and has to be either hospitalised or helped with the most basic and intimate bodily functions.
Over here from comfortable Toowoomba, and finding herself in a fascinating, radical milieu in a huge muti-cultural European metropolis, she now finds herself with a child, and married to someone who can't even piss without sticking a plastic tube down his penis.
He falls over, and she has to get somebody round to pick him up. It's always going to be like this. Or worse: he's gradually dying. She is constantly on edge, waiting for the tell-tale yell of anguish as he over-balances and crashes to the floor.
This is how I feel, and how I think she feels '
I break a leg. It hurts. It's a bad fracture. The medics will deal with it. They have the technology. Our family and friends will rally round and help Tio and Lewis.
I'm fascinated by the euphoria I feel once I recover from the terrifying experience of being paralysed by a virus. Colds and flu are infrequent anyway.
I fondly remember pissing from a standing position. Even better if it was al fresco. It's a bind having to find an accessible toilet, and complicated sometimes to have a catheter on hand, but far better than being hounded by the need to wee, or the embarrassment and fear of wetting yourself.
Falling and having to be scraped off the floor is embarrassing, but my bones are protected by the measures I take against osteoporosis, and I try not to take too many risks, so that it doesn't happen too often. I mean it's not the end of the world surely if a man decides to clean out his chicken coup, underestimates the slope of its base, and upturns his powerchair? We can't all be sober and sensible all the time, can we?
Tio is a lateral thinker. It has its advantages when we're planning a journey "Hey, why take the car? Let's take the train. You won't have the hassle of having to transfer to and from the wheelchair!" But lateral thinking does not just look sideways: it has its downside too, and I feel it. . My traumas seem to be a lot less permanent than hers. Of course, when I fall, I always imagine myself permanently prone -- stuck to the floor. I'm literally petrified when a virus leaves me unable to move. The last time that happened, I found myself testing my eyelids to check whether I at least had the mobility of Bauby's eyelids. Mortified, when I first wet myself in public I thought I might have to hide myself away forever, like Zucherman in Philip Roth's Exit Ghost. But the desperation does not last. I pick myself up, or someone picks me up, or I recover, or I discover a new technique for pushing myself out of bed, or discover self-catheterisation or get a walking stick, or something.
Didion, in The Year of the Magical Thinking, mentions that after the death of her husband, she quite frequently caught herself expecting him to get back home. I still consider myself a walker – although to all intents and purposes I'm now a wheelchair user. I'm still my school breaststroke swimming champion. I am therefore surprised when my feet sink to the bottom of the pool when I'm doing a length. Naturally, I used to use the hoist to load my powerchair into the car, although actually, I gradually handed over loading and unloading the powerchair to Tio or to whoever was driving.
There was a terrible temptation to slip into a cycle of denial by myself, and by and to my partner. I don't want her to know about the overflows of bodily fluids, or my problems getting out of bed. I can sometimes hardly bear to mention how I am feeling, the leg spasms or the latest relapse, in case she's further turned off, and tells me so. After one such cycle I mentioned, experimentally, the recent spasms hurting my femur. I was reminded that I had been warned well before the Southwold fall to have bone density checks, given that I had been taking steroids for so long. I didn't pay much attention to other than medics' advice in those days. (1985-95). I still see myself as the same man to whom Tio opened the office door in 1985. Tio, naturally, does not. In fact she probably imagines total paralysis and a slow, sordid death. Maybe I'm running time backward, and Tio is running it forward.
Didion quotes her husband John Gregory Dunne's description of death as "the eternal dark." In contrast, I see it as a permanent power failure. "Dark" implies sensation. It implies somebody doing the sensing; it implies the possibility of its opposite, light. It implies fright, but there's no one there to be frightened in the dark: there is nothing, a blank, a corpse. The one who is frightened is the one left behind. Maybe this is an extreme way of illustrating my and Tio's predicament. After all, I had opened up our dialogue by saying "I feel as if I'm leaving you." It was an opportunity for her to say how frightened she was. These are some things we have mulled over - not all of them in conversation; many just in my head, but at least Tio will get to read them here. And quite possibly, censor them on the grounds of privacy laws. I suspect and am thankful that she suppresses her most damning comments about me.
On other occasions we talked about such focal point disputes as our 'sofa incident. ' I had asked Tio to drag in the tall sofa so that we could watch TV en famille. I sat on it with difficulty (although I should have practised more). Tio sat next to me but it wasn't comfortable for her. The next time I stayed in my powerchair and she sat with our son. It hurt to feel excluded and I told her this. What I should have said was that I felt distressed to be excluded. She hadn't meant to do this, it just happened.
Later she came and gave me a big hug and a kiss. In the scale of things, the hug was possibly a small one, but it was big for me. The situation remained, though. I thought that she didn't feel relaxed around me.
Did Tio somehow blame herself for my disability? She feels responsible for me, everything in our family, everything in our house. Responsibility is a double-edged (s)word: your duty, and somehow, your fault. I felt that someone needed to advise her to lighten up.
It forced me to consider that perhaps I should broach the subject with Tio that she might want to find someone else to be close to and intimate with.
At one time, I would have been horribly jealous. Since my first marriage had come to an end amidst my impudent display of impassiveness in the face of blatant sexual provocation with other men by my former wife, I had determined to show my feelings at least on this subject. But the game had changed again.
M said that she thought that scenario was unlikely. I didn't ask any more questions. In my head I wondered if I should say it, so I did
"What about me? I've seen some small-ads in the classified section of the local paper, put in by women who say that for a price, they will visit you and give you a 'massage'." It would be considerably less complicated than joining a dating service. Amazingly, I not only thought of that: I verbalised it!
We were both adept, however, at thinking of something else to do when the time came around for our little discussions. I felt that they were enabling us both to face up to things. But it was tempting to bury them, and each had our own reasons for doing so: Tio wanted to avoid the pain it caused us; for me, it was just the habit of avoiding conflict and rejection ingrained into me by my squabbling parents and the school bullies .
At last, the extension was finished, and I did move down into it. I suppose I was being assertive in actions, not just words. It seemed like a rite of passage for both of us. It threw me into a depression. Over 20 years, I had got used to sleeping with Tio, and I missed her. Finally, I plucked up courage to tell her that. We had been to the Oxford Playhouse to see a one-woman play How to Live, by performance artist Bobby Baker.
Bobby Baker is not a glamorous actress or anything but that made her more convincing. She demonstrated her 'dialectical behaviour therapy' by analysing a frozen pea on stage. I recognised her instructions to the pea to 'Communicate, and don't give way', and 'Express yourself by saying "I feel"' from my counselling. So I did not give way. I demanded to talk, and I told Tio how much I was hurting. I thought it was fair enough, given that I was, so to speak, "on a promise" that things would get better. A couple of days later, things did, and I had a peaceful night with Tio beside me.
15. Last Chapter
Updating the physiotherapist's report: for a year or two I still took the 10 walker-assisted paces I crept between my powerchair, once I have docked it into its charger, and my bed at night, and the same 10 paces back again in the morning. Supplementary report: I still enjoy my miraculous walk from one end of the swimming pool to the other three times a week.
To echo Roth's Exit Ghost hindsights, what "precious things" have been denied me by the incapacities associated with MS?
There is an element of envy in watching Roger Federer at Wimbledon. He is a genius on the tennis court, I know, but I recognise the twists and turns of this hips and knees as something to which I could approximate in the far, distant past: and could enjoy it. But I have found a social life as a disabled person that satisfies me. It's annoying having to check on access to restaurants and pubs, but I think by a process of elimination, that if they're any good, they should make disabled people welcome. I used to love to walk in the woods and perhaps have a piss alfresco. There are freedoms like that, (and of course I can compensate by remembering how they felt, and rejoice instead in the struggle of stray fuschia or gerania growing in a ditch: ignored by most passers-by, but appreciated by the wheelchair-user traveling so close) as well as the long list of civil rights that I campaigned for at GLAD, not all of which have been fully achieved. There is also the sense of adventure to be derived from finding ways to do things which seem to most people (to practically everyone in fact, given the culture associated with centuries-long social discrimination against disabled people) to be denied me.
The other day, when I was fed up, I wanted to go out and find a friend to talk to. I realised that nearly every house in the village presented an obstacle. I could not get over the threshold. British society with its incessant doorsteps has denied me that. People don't invite me round for dinner any more. That is, unless, like my sister Kate's husband Philip, they have built their house to be accessible or, like other friends, have made them accessible (in fact, the provision of a ramp is maybe a measure of a true friend). Other friends invite themselves round and bring food; so I would have to include them in the measure.
I always used to joke about my hopeless memory, but it has become beyond a joke. I get angry when I can't find the TV guide and accuse Tio of hiding it. I know these are everyday occurrences in most people's domestic life, but they happen to me with increasing regularity. The paranoia associated with them is destructive. I am sometimes frightened by my confusion and I know my wife seconds that. The sclerosis leaching away my brain cells has leached away some of her trust in me. She used to trust my directions as the 'co-driver' on journeys. She refuses to go away with me now without having someone along to pick up the pieces, should the balloon burst. As always, I go along with her plans quite affably. I like having our friends and relations with us. But what have I done to make myself a liability?
One incident comes to mind. It was when we were at Harborough Road and Lewis was very small. We had decided to take advantage of the presence of Yola, my helper, to go out to lunch. Just the two of us, Tio and me. It was my initiative. We decided on the café at the Globe Theatre. It was somewhere nice to go, with a view of the river. As usual, Tio drove: I was the navigator. We had been to the Globe several times before, but I just couldn't remember the way, and then was overcome with confusion. We had been talking about another restaurant, further along the South Bank as an alternative. I got out the map and directed us there. By the time we had realised that we were completely on the wrong track, it was too late for lunch, Tio was angry, and I was feeling humiliated. That was when, I feel, that the last vestige of her reliance on me dissolved. Of course that's not true, and I'm sure that Tio would not agree. Otherwise she would not spend two days and one night a week working in London, and leave Lewis and the house in my charge. Just as when, immediately after my diagnosis, she encouraged me when I was afraid to drive in the dark, her courage shines through, and I am grateful.
But the main thing I do resent about my MS, is that it has deprived me of the intimacy that I cherish with Tio. My progressive loss of parts of myself is emotionally painful both for me and for her. Reading 'Child in Time' by Ian Mckewan helped me understand that, though of course it is still painful, there is more to life . The protagonist and his wife lose their child. He has taken the child shopping, looks away, and she has disappeared. The loss makes it impossible for his wife to maintain a physical relationship with him.
I've never felt guilty about the burdensome nature of my condition – something, along with my advanced age that might frustrate my wife. But then she did choose me as a boyfriend, partner and husband, and I can hardly be blamed for my age or condition. I tell her she worries too much, and reflect that we're such good friends, and provide such good company for each other (she sees the behaviour; I look at the politics. We have synthesized, I think.)
Her intelligence penetrates to the heart of the beast of a problem, and penetrates to my heart too. I rejoice in her , every part of her. I still love the way she carelessly sheds clothes, casually tries something on for effect. How she delights in difference – in an animated conversation with a stammerer, a curious phrase, the way our child figures things out, and in his growing, changing body.
At the same time as coming round to accepting that part of my relationship with Tio could be at an end, and imagining, 'as you do', alternatives, I stubbornly held on to hopes. And sometimes infuriated her by dipping into my imagination, and trying to woo her anew.
One year later
It is one year later. Inexorably, my condition has deteriorated. I no longer use my walker to move the 10 paces between rising from my powerchair, leaving it on the charger, and the bed. When I had energy it was just about okay, but in the evening, when I was tired, I found that I could only shuffle forward in crablike steps, terrifying myself in the process. So now, the battery charger lives under the bed, and I have only to remember to plug it in, once I have stood up, grabbed hold of the ' Bed leaver' rail and sat on the bed.
I have kept up my swimming, but I only manage it as a result of buying a PAL (portable aquatic lift) hoist. I felt for the man who brought it round. Because it is movable to any position at the side of the pool, it has to be very heavily counterbalanced, weighted down by several stainless steel blocks. The engineer was heavily counterbalanced (with layers of fat) himself. He seemed like a walrus at the side of the pool, and because it was warm in the glasshouse, each time he returned with yet more steel blocks, sweat poured off him as if he might contribute his own couple of gallons to top up the pool.
I can operate the hoist myself, using a remote control. Sitting below a beam, it swings you out over the water. The very first time I used it, frighteningly I felt as if t I was on a high diving board. But when I pressed the 'Down' button, it lowered me gently into the lovely warm water. I was surprised that it was such a short way down. Not only can I continue my swimming, which I'm sure is responsible for my relative fitness, over twenty years after the MS diagnosis, but I also feel safe. The steps were becoming something of an ordeal. Meanwhile, my legs have been stiffening up so that I sometimes arrive in the water with my knees clamped together -- under arrest. Of course, my physio Erika noticed. She jumped into the pool with me and my sister Kate, and prescribed some hydrotherapy exercises.
With Erika's help, I have added other exercises to my regime. Twice a week, a local freelance nurse, Katie, who I contacted through Tio's netball club, helps me to get dressed. She preserves my 'modesty' as best she can. Frankly, I couldn't care less. Maybe it's being educated in boys' boarding schools, where we undressed and dressed communally, or because Tio and I have never hidden any part of ourselves from each other, it really is of no consequence. To me, that is: I expect Katie feels differently. After this, a bit like a matron, she directs me as I lie flat out on a treatment couch (another new piece of equipment:, this time purchased from a kind couple in Exeter through eBay). She then takes me through a series of leg exercises prescribed by my physio. I do these on the days when I don't go swimming. On one day, when I swim, my sister Kate takes me through a series of hydrotherapy exercises. On another day, Katie comes and helps me get dressed after the swim. There is one further element. My neighbour Patrick, a fully qualified chiropractor, comes round and pushes, pulls and massages the various parts of my body into shape. I always feel better after every one of these regimes.
Another change: we have bought a new car. Or rather, a van: one of the early Gowrings roll-on roll-off models, based on a Citroen Dispatch. A tall, red van. The moment it appeared on our Close, the local children ran up the ramp, slid open the window, and commandeered it as an ice cream van. I bought several '77's. The children defused what could have been a painful moment. I had been responsible for the replacement of quite a handsome people carrier with a goods vehicle. The way we used the people carrier was quite simple. I pulled myself up out of the powerchair to sit in the passenger seat beside the driver. There was a hoist to fit the powerchair in the back. But leaning back against the passenger seat, it was becoming impossible to swing my legs into the car. I didn't like having to ask somebody to do that for me. The somebody was usually M, the driver. The advantage of the new car is that I don't have to transfer out of the powerchair. Instead, I just roll up a ramp into the car. The powerchair is secured in place with belts by somebody else behind the driver and front passenger belts. Whatever I think about being trussed up like a commodity in the back of the van, and as an outcome, sometimes getting travel sick, it is an unfortunate consequence of my progressive debilitation that if I am to travel anywhere by car, I would sooner or later have to travel in this way.
The deterioration of my condition had a further consequence. Erika, my physio had noticed how I was slumped in the seat of the powerchair, and said that I should get something that was better for my posture. Of course I hadn't noticed that I had begun to look like some kind of lazy, crooked cripple. I was referred to the "Wheelchair Service". It turned out, in my area at the least, to be an understaffed and hard-pressed arm of the NHS. One year later, they had me in for an assessment, but what was prescribed, once I tried to use it at home, took even more corners off the doorframes and plasterwork than I was leaving in my wake already. Instead, I was allotted a cash sum towards buying a powerchair myself. I contacted a local company, who supplied a very expensive, but comfortable, powerchair. It could do something that I could not, and that was to raise my legs. (People were beginning to remark on the unsightly purple colour of my feet). Inevitably, one of these leg-raising parts went wrong. Twice. The very genial engineer, who was also the owner of the company, came and took away the part. Twice. The second time, neither he nor the part appeared back . Losing my temper on the company's answering machine, and then practically falling apart myself on the phone in frustration, did not work. The company's office manager Rosemary, clearly upset too, whispered to me that I had to lay down the law with her boss. "Tell him!", she said. All this happened at the time of the 2008/2009 Credit Crunch. In contrast to my dogged, misplaced optimism that we were living in a charmed part of the economy, Tio correctly analysed the situation: "They're going bust". Just in case, I contacted the Trading Standards office, and then wrote the company a very stiff letter threatening legal action under the Sale of Goods Act. The missing part appeared by messenger the next day.
16. Fantasy Ending
NB THIS CHAPTER IS FICTION - something similar will happen to someone, sometime
A cure!
I took the first of a course of pro-myelin tablets two months ago. They are purple lozenges, sometimes known by the MS community as 'purple hearts', and they are said by the newspapers to be the 'miracle cure' that they have been predicting for so long. And it does seem to be miraculous: I have watched on the television while people with MS who have not taken a step for years, walk across the garden - just like walking on water. I can't say that I felt much effect from the tablet. Maybe I had more energy throughout the day - but after three weeks, I was able to walk with sticks again; that was something I have not done for two years. A couple of times, I got too ambitious and overbalanced, but I'm quite used to falling over. I got up, which is something I could not do before, and started walking again. It's incredible to think that I might play tennis again or go for walks with Tio and Lewis. But that would be the easy side. I have got used to being disabled. That has become part of my personality and I'll have to get used to the change.
Like tens of thousands of people with MS I had heard about the new drug as a Thursday news item. The Today programme had been full of a spate of South London gun crime. Jim Naughtie interviewed a distraught mother. There was a grimly routine item from Afghanistan about roadside bomb casualties, and then "The University College of London National Hospital for Neurology and Neurosurgery is today to announce remarkable results from the trial of a new drug to combat multiple sclerosis. While it was initially thought that the drug might mitigate some of the worst effects of the disease, unexpected remissions have been obtained in some patients. The trial in which half the subjects are given a placebo tablet has been suspended so that all patients in the trial can benefit." I had taken most previous announcements of a miracle cure for MS quite cynically; the press used to latch onto them, but the small print of the news release had often said that development of the treatment would take 10 or 20 years. But I must confess, I got quite excited about this one.
Six months after I had started the treatment I had had my first game of golf with my son, Simon. But I was hopeless. I thought it might be something for me as a 65 year old man. But I have never played before, and it was the wrong move. Lewis, at the age of 12, indulged me with some cricket practice, but I was never very good at cricket anyway. Relearning to drive was comparatively easy, but I was still not confident to drive Tio anywhere, and I felt that she wasn't very confident about me driving Lewis . It felt very strange and exciting climbing the stairs, but Tio didn't want to sacrifice her separate room, and so I moved into our old room with my adjustable bed. Frankly, I was very depressed. When I missed my footing again, and crashed to the floor, I lay on my stomach and cried.
In my attempts to readjust, I had started a course of counselling again. I was determined to lose my sexual performance anxiety. It was just about the hardest thing that I have ever done. As I had hoped, Tio had by now developed her own set of friends, quite independently of me and had gained a lot of confidence, with her old jokey, sometimes flirty manner. I don't think she had developed any of her friendships to affairs. But then she might have. She wouldn't have told me anyway. I told my counsellor that I was looking for a girlfriend - more in an effort to gain confidence. I was still too much in love with M. There are some of our friends in the village who I find exceptionally attractive. But of course they wouldn't find an ageing ex-disabled family man, to whom they are always very friendly, at all attractive, and even if they did, my ethics are such that I would not like to be responsible for breaking up their families.
One thing I did start was more cooking. That was a success! I invited friends round, and we had some delicious meals out of Tio's cookbooks. Nevertheless I think the only thing that held us together as a family was providing a home for Lewis. But it wouldn't be long before he would not want to come away with us. And given that we lived quite separately, it wouldn't be long before Tio wouldn't want to come away with me. My disability has provided a useful peg upon which to hang my sun hat. I had felt sometimes that Tio would come on holiday with me because few other people would understand the problems. She knew my psychology only too well. I told myself and my counsellor, that I would just have to be more independent of thought, as well as of action. Who knows, that might be attractive to Tio, but I might also be able to develop my life for myself better. I think, dear reader, that I did so. We are a happy family again, more mature, and each of us more independent.